[To see my portfolio, visit Sauced Media]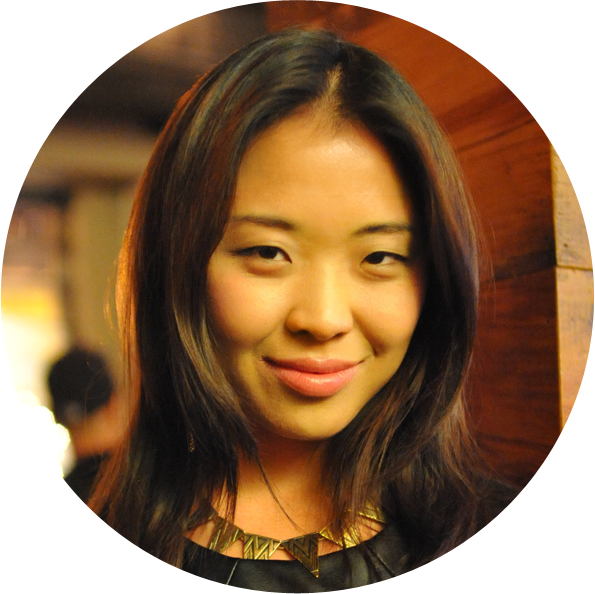 I'm Lana Lingbo Li.
I grew up in a 95% white suburb of New York and didn't leave my room much in high school. I decided angsting in my Livejournal, penning fanfiction (H/D forever!), and sewing my own clothes were much more fulfilling. Needless to say, most of my friendships were virtual.
Instead of learning how to drink, I learned HTML, Photoshop, and all the Sex Pistols songs. I cut my hair short and gelled it up in faux hawk. I thought about going to art school, but was annoyed that they didn't care about my grades. So I went to Harvard.
At Harvard, I wrote a lot for the school paper. During my freshman year, Alan Dershowitz called me up on my cellphone while I was at the gym and told me I was a terrible journalist and that I should be ashamed of myself. I was a naive 18 year old, and it was my 2nd attempt at writing a news article. I didn't know he was supposed to be a Big Deal, so I blew it off and told him "I'm sorry you feel that way." Then I realized the newspaper industry was crap anyway, and ended up doing something else.
End of sophomore year, I was tired of writing news articles. I had a vanity domain, lingboli.com, and figured I'd throw up a blog. Just like Livejournal, but sexier!
I wrote about food. People started reading it. More people started reading it. I got recognized in school by people I didn't know. People wanted to be my friend all of a sudden. It was surreal.
A lot of other things happened in college, too: I found my BFF Felice, majored in Anthro, took David Malan's intro to computer science class, interviewed Alec Baldwin (who advised I should "grab the world by the balls and swing it over my head"), entered a beauty pageant, and dealt with crazed cyberstalkers and 20 page papers due the next day. I have a very low tolerance for BS.
Since college I've launched a new project – Hello Lana – where you follow me now!
Contact info:
You can email me at lingbo [at symbol] post.harvard.edu. Feel free to send samples in the mail, although I cannot promise I will write about them. I generally will not post about events since it doesn't fit the content of my blog, but I do often attend and Tweet about them.
Weird things I've eaten:
In my travels, I've dined on smoked puffin, testicles, bull penis, calves' brains, rabbit's head, rare mink whale steak, and fermented shark. I've found culinary joy both in $1 Burger King Junior Whoppers and Wagyu beef nigiri at Boston's O Ya. Ask me sometime how I ended up in Hong Kong when I was 19 . Or, you know, how I'm still alive.
Food universe contributions:
When I was in college, I served as president of the  Harvard Culinary Society, where I launched Taste, a weekly food publication.  I penned two food columns — "Lingbo Eats" and "Whine and Dine" — for The Harvard Crimson. I also covered Cambridge news. I interned at  I've interned, worked at, or contributed food content to Serious Eats, Boston Grubstreet, Let's Go: Boston, STUFF magazine, City Weekend Shanghai, GoodEater,  The Examiner, The North County News and 3 Buck Bites. I was an editor for Let's Go: Europe 2009 and Let's Go: Western Europe 2009.
Press stuff:
I was filmed as a talking head for Food Network Canada's Eat Street. I've been interviewed on video by the lovely and talented Lynne Guey for CampusTweet.TV, served as a judge for Top Chef: Harvard and the Boston Luxury Chocolate Salon. I was interviewed/photographed for a front page Boston Globe story on Harvard's science of cooking class. I've also been quoted in various blogs, including NBC's Feast and Eater National.

Frequently Asked Questions
1) Can you give me a restaurant recommendation?
Search through my blog archives (entries are tagged by cuisine, location, and genre) or shoot me an email!
2) How did you make this website?
I use WordPress for blogging and I recommend Dreamhost for a website host – you can use my coupon "CARPEDOMAINNAME" to get a free domain name registration!
3) I'm a fellow student/Bostonian/food writer/book agent/producer. We should get dinner/hang out/collaborate/talk about a book deal/tv show!
Okay! I like making new friends and contacts. As long as you're not creepy.
Also, if you have to clarify that you're not creepy, you're probably creepy. Just sayin'.
4) What's your favorite restaurant?
This is like asking me "what is your favorite color." Because the answer is black, except when I wear too much black, and then buy a bunch of yellow dresses. Does that answer your question? Good. I thought so.
5) How are you not obese?
Genes, youth, and my Foie Gras Diet. I try to jog when I can, and I consume a lot of caffeinated beverages. But seriously, I'm not going to bullshit you or try to sell you a diet book: genes and youth really help.
6) I like your blog!
Thanks! Yay! That makes me happy. If you want to make me happier, tell your friends about it!
7) I hate your blog. All you talk about is food. You are so shallow.
Ok! Trying reading something else… maybe something that's not a food blog.
8) I don't agree with your opinions.
Sorry to hear that. You're welcome to start your own blog to voice your opinions. But you gotta link to me. Share the Googlejuice. SEO 4 LYFE.