Hell is not bad food.
It's other people. Specifically, hostile servers. After an atrocious experience at Brookline's Genki Ya, I'm trying to pick apart the mess.
When I was 16, I was a cashier at my local A & P. Old ladies with tubes in their noses would squawk if a box of crackers rang up 20 cents higher, demanding that I follow them into the aisles to see the price sign. (They usually had misread it.) Soccer moms would mutter mild abuses about my incompetence as if I was wasn't human. I was there once too. I sympathize.
But some servers have made me cry with frustration. There was pimply-faced one who worked for Western dining chain Wagas in Shanghai (Wagas Citic Square branch, August 8th 2009) who outright lied to escape his screwup, capping off a troubled relationship with China's service culture. I wrote an incensed email to the chain but never received a reply. Some servers are merely incompetent – forgetting, dropping, blundering – and I tend to just feel sorry for them.
But sometimes there are spectacular front-of-house failures that deserve a writeup all their own. These require repeated, concerted level of incompetence that is really just embarrassing for everyone involved.
There's a "normal accident" theory that arises in trying to explain tragedies. In these cases, there are many small mistakes. Each of these mistakes alone are normally not a big deal, but it's the coincidental alignment of them that spells a lost customer.
So let's explain my disastrous meal at Genki Ya, a small sushi restaurant that bills itself as all-organic. I'd eaten there before and enjoyed the food, so returned with boyfriend in tow.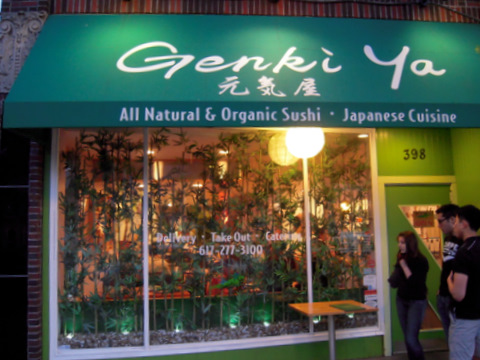 We wandered in on a Friday night. It was busy, but not so busy since we were seated within two minutes at the sushi bar. I was faint with hunger; he was inured to the world after a week of hell and insomnia. We planned on ordering omakase – sit at the sushi bar, give the chef a budget, and let him/her pick whatever was fresh.
I swear I'm not making ordering omakase up.
We ask for omakase at $50 for the two of us. Blank stare from the waitress. We explain in plain English what it means. Outright refusal. "They're too busy," she says.
"Too busy? All they have to do is choose something," I say.
"They're too busy," she repeats, as if we've asked for something particularly distasteful.
Desperate with hunger, and somewhat stubborn, I have an inkling she is not Japanese.
I speak to her in Chinese, explaining the concept of omakase in our secret-Asian-people-language-club tongue. I'm right, but am met again with cold refusal.
My dining partner and I look beseechingly at the men making maki behind the counter. They seem friendly. We try to undermine the servers. It's beginning to feel like a CIA mission. No luck.
Meanwhile, I'm lightheaded with hunger. Our waitress has abandoned us. We finally get another waitress, who we repeat the same request to. Refusal again.
We're floundering. Finally, after more hand wringing, the manager comes over, who nods several times, and says he'll send over miso soup. We rejoice since we're finally going to get the meal we asked for – or so we thought.