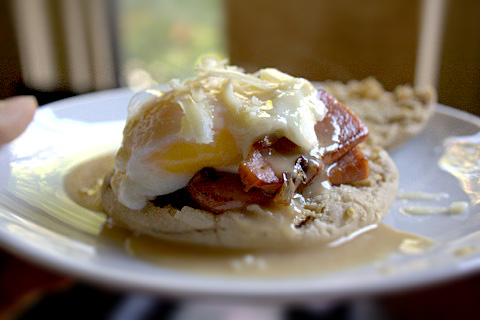 Eggs Benedict with Hot Dogs. I'm not joking. (My photo, with a Canon Rebel XS + kit lens + PS)

I was cooking up breakfast one Saturday morning for my better half when the urge hit me. You know. The urge. That crazy little idea in your head.
Yeah, I thought. Yeah, I'm a cooking badass. I'm going to make EGGS BENEDICT.
You don't understand how exciting this idea was. I had never successfully poached an egg, nor had I ever attempted a French sauce. This recipe also contained four simultaneous (sort of) components.
To my "lazy girl curry"-making self (instructions: chop up onion/garlic/ginger, fry and add curry paste + protein + veggies, dump in coconut milk, cook it 'til it tastes good) making eggs benedict seemed like nothing less than scaling a cooking Everest.
Ok. So a real cooking Everest for me would be doing something like brining and deep frying a Thanksgiving turkey, but regardless.
There was only one problem. No, two. No bacon. No lemon (for the Hollandaise).
Being like any other lazy human being, I didn't want to put on clothes to run to the corner store. I preferred to let the oil splatter my bare skin, of course. (Don't try this at home, and don't try it in high heels.)
So I subbed in hot dogs from the freezer and figured out I might as well use up the chicken stock in a velouté sauce, a French sauce made by combining roux (flour and butter) with stock. It's more often paired with poultry and seafood dishes, but hey, I was gonna try.
Click on the link to get my humorous (but totally serious!) recipe.