Hello from Kampot, Cambodia!
A college friend asked me a bunch of questions on traveling alone. I feel like there's a dearth of good information on what it's like to travel alone as a female, so I'm posting my responses here.
Keep in mind that my experience is unique and that I'm talking only about Southeast Asia (which is great for female travelers! Other locations are less so).
—————-
Hi Lingbo!
Thanks for responding to my facebook message. I think it's awesome of you to venture out on your own. I've traveled alone for a few days this summer, and it's definitely a strange experience, in that it both opens you up to new experiences but at the same time also closes you off (i.e. you have to look out for your own safety, so no accepting drink invitations from strangers). Below are a few questions. There's no rush, so I'd love to hear your thoughts whenever you have any time.
1. How do you locate budget-friendly and female-friendly lodging? If you do choose to stay at a hostel, how do you go about picking a relatively clean/non-sketchy one? I tried staying at a hostel when I was traveling on my own in Amsterdam but was told that all the rooms were co-ed. One look at the many European boys in tattered jeans smoking on the front steps drove me to shell out $100 for a hotel room.
Ah hostels…
Well, there's a key difference between Europe and Southeast Asia. That is, you can easily afford your own room ($5-15) in Southeast Asia.
That being said, hostels can be great too. They sometimes have private rooms or female only dorms. However, I wouldn't wholly rule out a coed dorm, either. I think you'll find that most of those seemingly sketchy European boys in tattered jeans aren't all that bad. Sure, they smoke, but a lot of Europeans do. (I hate smoking. With a passion.) There's always creepy men in every hostel batch, but most of them are probably just like you – bright-eyed university students looking to have a good time while traveling. You'll probably find that loud partiers of any gender barging in at 5am a bigger concern than the presence of men.
Try reading reviews on HostelWorld.com and HostelBookers to see if you'll like the vibe there. Some hostels are notorious for being all night parties, others are for quieter travelers. Pick accordingly.
As you travel, you'll find yourself doing things that would be considered lunacy back home – squeezing 7 people into a 5 person car, driving a motorbike in the opposite direction of traffic, spinning fire poi naked – and that's part of the experience. That being said, just keep a comfortable level of vigilance that allows you to be safe while still trying out new things. Remember, you can always switch hostels. Bring earplugs!
2. From your travels, it seems like you've had no trouble making friends with fellow travelers and the locals. I always feel a little hesitant approaching new people (or new groups of people), mostly out of safety concern. Do you have any advice on how to do that?
Make sure you read safety warnings in travel guides and online. Different destinations have VERY different guidelines for do's and don'ts regarding safety. For example, in Mexico City, it's imperative never to randomly hail a cab off the street. In Asia, this isn't an issue at all. In India, the chances of harassment as a female are much higher, and you have to act/dress accordingly. In Thailand, if someone speaking English approaches you on Khao San Rd (a popular tourist spot) with some sob story or gem-selling scheme, it's a scam. Etc. Etc. You just get used to these after awhile, and learn how to ignore them. You'll find that looking Asian insulates you a bit from these, since people aren't sure if you're local or not. Just be sure to do some initial research so you can spot scamsters and know where's safe to go.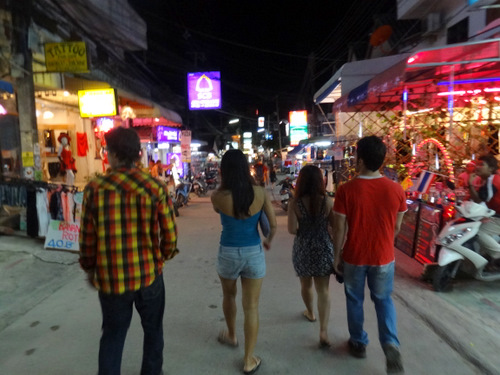 Met up in Koh Phangan with a bunch of friends made through a Couchsurfing meetup.
Here are some rules for making friends safely:
1) Don't try to break into large groups of men. They're not that much fun, anyway – they usually want to drink as heavily as possible, talk about sports, and light things on fire.
2) Don't go chat up that dude in his 50's who's sitting all alone at the bar, nursing a double scotch. He will think you're a prostitute.
Other than that, it's not so bad. Here are prime targets for friending:
1) Another female traveling alone. This is one of the easiest and most promising friendships to be struck. Try spotting her in a hostel's common area or chilling at a cafe, reading her Lonely Planet.
2) A mixed gender group.
3) Another male, around your age, traveling alone who seems nice.
4) A couple. Good for a casual chat, but unlikely to become your sightseeing partner.
5) Go to meetups. Major cities all have weekly Couchsurfing events where you can meet locals and travelers.
You'll find that giant social groups naturally form at hostels, but it's easy to meet people anywhere. As far as safety, just use your common sense. If a dude seems creepy, he probably is. But don't let that deter you from all the genuinely friendly, uncreepy folks out there. Not much can happen in a well-lit, public area with other people around.
Please, please read my friend Lena's fantastic blog entry on rejecting pushy dudes for the socially awkward. I think any girl who's worried about "offending" a guy will identify with what she says.
Conversation starters:
– "Hey, did you mention you've been to ____(Amsterdam, Outer Mongolia, Reykjavik)___? What's it like? I was thinking about going there next."
– "Do you know where ___ is?"
– "How long have you been traveling for?"
– "Where have you been so far?"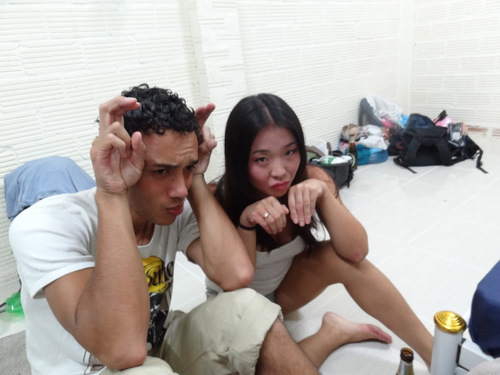 See fake engagement ring on my left hand. Yes, we're making animal faces. No, I don't have a better picture of my fake engagement ring.
I bought a fake engagement ring for $3USD in a night market. Not sure how much it has helped. It's good for quick, easy to rejection at loud parties – just point to your ring finger and shake your head. But I've been traveling a lot with people that I've met on the road and generally haven't had any issues.
3. What about meals? I'm sure you're trying out local cuisine wherever you go. If you want to dine at a relatively upscale place, do you feel comfortable eating alone or do you find someone else?  if the latter, how?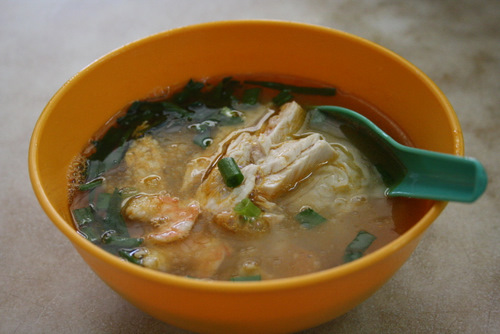 In Southeast Asia, upscale places are usually an expensive disappointment. The best and cheapest food is at street stalls, which are easy to sample by yourself. But I usually eat with someone else anyway. If you meet someone who seems nice earlier in the day, just casually invite them to dinner. They'll say yes 99.9% of the time. Or maybe you'll acquire a temporary travel partner. If you meet someone who seems cool and who's heading in the same direction as you,  try planning on catching the next bus together. That way, you'll save yourself from boredom on long trips and have a new travel buddy in the process.
4. Packing, part 2. You've covered a good deal of the packing on the blog already. I had a few questions about packing a camera/laptop/other heavy equipment. There's obviously a trade off between bringing along a fancy camera to take really nice travel photos and being able to carry all of that and walk for a few hours. What do you do about camera? Do you opt for a compact one? What suggestions would you have for people who want to bring multiple camera bodies/lenses but at the same time still only one backpack, like you suggested on the blog?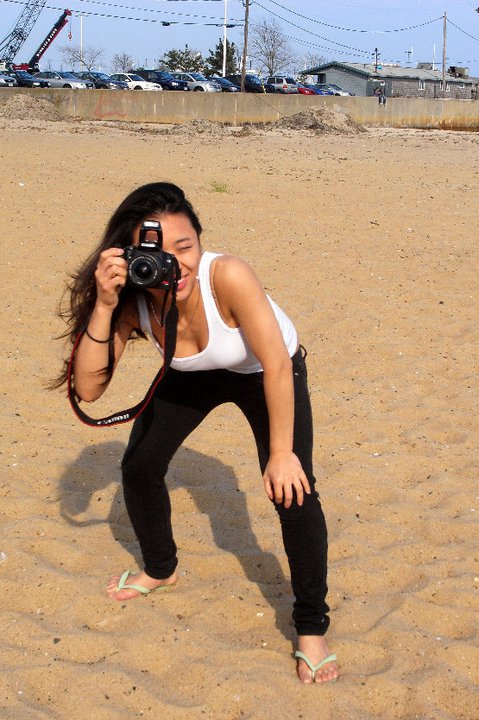 I would err on the side of less equipment, unless photography is a main goal of your trip. I have a DSLR with me and wish I didn't. It's fine if you're taking a shorter trip and not moving around too much, but I'd rather have a high quality compact camera. I usually don't even carry my camera around because it's so annoying to have with me.
5. How did you pick your travel locations? Did you plan the whole trip out before you started, or is it more spontaneous? Where have you been?
I'm not entirely typical in that my entire trip has been spontaneous. I ended up in Malaysia and Cambodia by accident. I'd meet someone who mentioned they were crossing the border to X or Y and I'd think, hey, why not? My visa is expiring anyway. You'll find that there is a well-worn route of bus stops and ferry links – the typical tourist trail, if you will – and that other travelers will be going/coming from the same places. So for overland travel, being totally spontaneous is very much possible. Flights are a little different. Fares vary wildly depending on when you buy them, so better to plan about a month ahead on these to grab the promo fare.
Not planning is fantastic because if you like a place, why not stay longer? Or if you hear about some other cool town, why not go visit? You have to trust that nothing will go too wrong. Because it generally doesn't. Unless you're so off-the-beaten-track that finding transportation is an issue. In which case, be a bit more careful.
The most helpful thing is to have a end destination in mind. For me, that's Shanghai, where my return flight is. So I've been meandering across the continent, but I try to keep on a generally northward path. Having a full 4 months means that I never worry about the time.
6. What has your travel experience been like so far? I feel like female travel memoirs like Eat Pray Love or Wanderlust make it all seem so easy, but it's actually much more difficult in real life (or maybe it's just me). Have you encountered any difficulties? Memorable experiences?
Travel isn't hard. Think about it this way: there are millions of other people your age, much stupider than you, who have successfully backpacked across Southeast Asia. In time, you'll find that the occasional hard bits make for the best stories and memories.
Probably the most annoying thing that's happened is my skin flaring up like crazy. Nonstop traveling is tough on your body, particularly in an unfamiliar climate, so I've been careful to pick rooms with A/C, get enough sleep, and give myself long breaks. The most likely difficulty you'll encounter is getting ripped off. But I've felt myself really grow in this respect – I've learned how to bargain without getting offended about being scammed, and sometimes just accept that I've been scammed. (It's just a few bucks. No big deal.)
The most important thing I've gained is a sense of humor and patience in dealing with unfamiliar situations. Sometimes a bus will mysteriously break down, or drop you off at some random travel shop for 2 hours while you wait for an unexpected transfer. You just learn to stretch your legs, buy some pineapple, and pet a local kitten. Bring a book to read – there are book swaps at most guesthouses once you're done with it.
As a side note, you'll find that frequently touristed places – like any major city or place listed in the Lonely Planet – are really, really easy to navigate. Tons of people speak passable English and signs/menus/schedules will be available in English. It's also helpful to have a phone to meet up with all your new friends, either with a local SIM card or prepaid phones. I've been trying to get by on wifi and Skype, but this is proving to be antisocial and a Really Bad Idea.

As for memorable experiences, there are too many to count. Friendly people, beautiful sunsets, inexplicable scenarios, massive parties, and moments of unexpected awe.
7. Who takes your photos?
I take photos with my camera, but as far as pictures of me, usually a travel partner or staff member.
8. How do you fund your travels?
I happen to freelance as a web designer while I travel, so I can work from the road. However, there are a million other ways to finance your travel that don't involve having technical skills and a wifi connection. Some people just save up before they leave. (You only need $30-50 a day to travel very comfortably in SE Asia. Less, if you're willing to forgo some creature comforts.) Many hostels will let you work a few hours a day in return for free room and board. I've met people who taught English, played online poker, worked at hotels, or just lived at home and saved up some cash from a secretarial or bartending job before heading out.