So I was supposed to have dinner at the Helmand in Kendall Square (and try their semi-famous pumpkin kaddo dish), but due to a hilarious error, that night went down like this:
Fabulous Friend: I'm so so so sorry. I thought I made reservations at the Helmand, but I actually made them at The Helmand in Baltimore. [Understandable, since he's from Britain and doesn't understand the subtleties of area code.]
Me: Oh.
Fabulous Friend: I'm so sorry!
Me: I guess we'll get all 14 people to fit in some place in Harvard Square?
So in the stroke of time, I called my never-fail friend, "lifestyle" blogger Lena Chen who immediately made an RSVP for our outsize group at Algerian-Tunisian and North African Baraka Cafe in Central Square. Magically, it all worked out.
My friend and I arrived as the rest of the group chatted outside of the door – it was located in some very random residential area about a 15 min. walk from the T station. We stood right in view of the waiters, who literally took 5 minutes to finally take note of the diners who had arrived. I guess we weren't stampy or demanding enough. It was going to be a bit of a wait, so a small group of us wandered into Hubba Hubba, an unapologetically campy sex shop on Mass Ave where we ogled some lingerie before the owner's friend out of the blue claimed that the Middle East sprinkled lard in their vegan food and unloaded about her chemo treatments. Back to the restaurant it was.
After we sat down, I did some camera tricks to show how to get really crisp pictures in low light situations, like this one of a salt-holder. (Not shaker. You picked up the coarse grains with your fingertips.)
I really have to say that I will post some pictures of the food, which was decent despite the comically, lovingly surly service, but this night was all about the LEMONADE which deserves all caps. If you do anything here, you must get the lemonade. And once you drink this lemonade, you will want to take a bath everyday in it so it can seep into your unworthy pores. Or maybe make some kind of celebrity-backed scent out of it.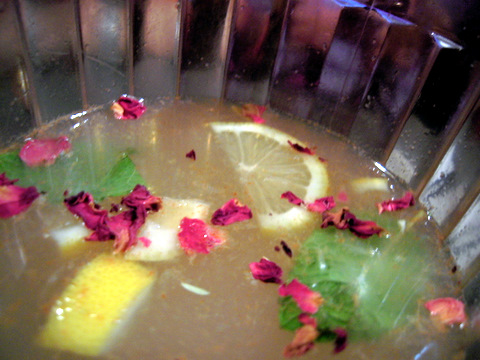 If I were so religiously inclined, I might even bless my firstborn with it.
It comes with rose petals floating on it surface. Inhale the aroma, and it's nothing like the drink mix lemonade of childhood yore – it's sweeter, more floral, and heavier from the North African spices. Its flavor has strong notes of rosewater (which never veers into the perfumey fake territory) and spice, which underscored the flavor with a uniquely adult heft. It preferred a full-bodied sweetness to tartness, and strangely, my glass never felt cloying. This was lemonade for lovers.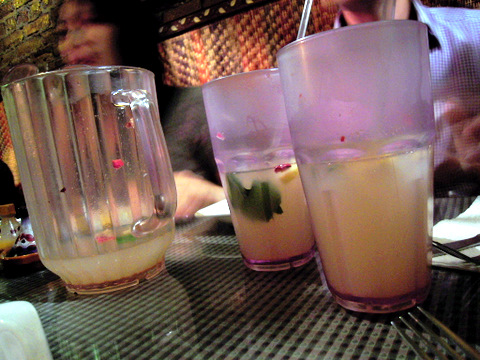 I had Melkha, an eggplant dish with couscous, feta, and gruyere. The eggplant was cooked to a lusciously silky texture, but I wish they had put more feta and olives in – combined with plain couscous, it was rather bland for my tastes. By the time I realized I should salt the life out of it, I had already finished most of it.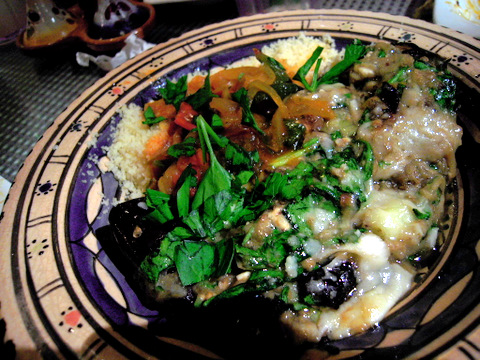 Here are other people's more exciting dishes: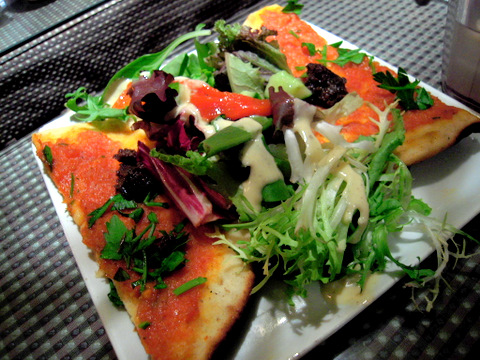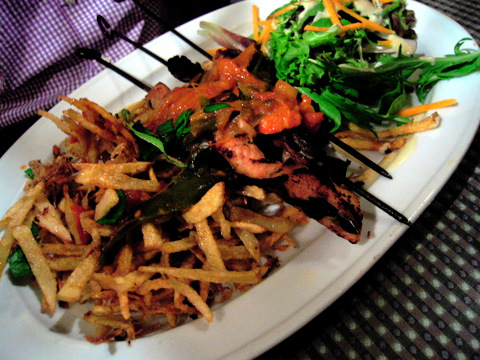 And a fab vegetarian platter: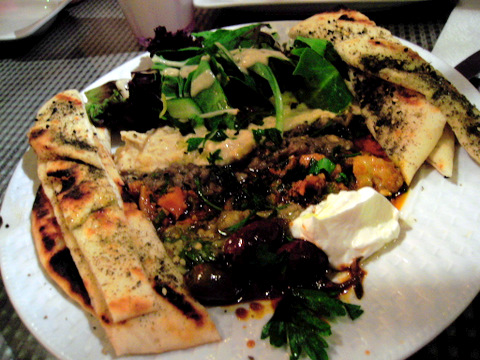 Baraka is worth a stop, just for the lemonade alone. It's a nice spot to take to impress a date with your random foodie knowledge since it's intimate, romantic, and secluded with exposed brick walls and tables that gently quake as the (somewhat surly) waiters walk past. Ok, so it took us an entire hour to get our food, but their hummus was fabulous and the lemonade! The lemonade!!
Find it!
————–
80 Pearl St