China is hustle. You remember all the aggressive salespeople in Shanghai, those doe-eyed shopgirls you hated so much. Last summer took so much sweat and yuan from you, in between being ripped off and drinking the cheapest beer at the most glamorous watering hole in the city.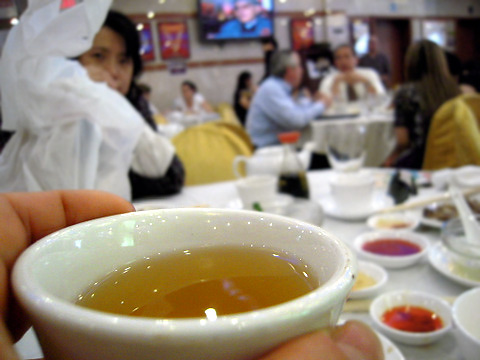 But it's been nearly a year, and slightly off-kilter hum of dim sum being served at Golden Unicorn in New York City is nostalgic now. You almost miss China, or at least its edible bounty, and your friends who ran a hot pot restaurant.
Dim sum is endemic to that decompression zone of Hong Kong, where you spent a week the summer before last. Golden Unicorn is convincing – the carts clatter, the gold chair covers are frayed, you spill chile oil over the white tablecloth.
Never mind, here's another saucer – or is that red vinegar?
When you order the duck feet, the server piles the bowl 5 high. The skin of the webbed toes are marvelous, cleanly giving way to the teeth like a sheet of bean curd. The joints are gelatinous, more like chicken feet. You eat a plate of those too, the tiny bones piling up before being cleared away by a woman with a severe bun.
Laowai chatter over half-empty cups of tea while the tai tais thrust platters of egg tarts and steams of shumai for inspection. It is unclear who is laowai in this situation. These dim sum pushers are experts at their trade: this is very good, they say, proffering a quartet of crystal shrimp dumplings, assuming the sale. Before you know it, they've stamped a bleeding crimson star on your receipt. Thank god the dumplings are translucent, delicious. You count ten folds in the seam, short of the grand master's twelve.
Dad orders do fu nao, a silken tofu soup sunk in a delicate, sweetened ginger broth. It glistens; it quivers. It is as gentle as lullaby and as slippery as sin.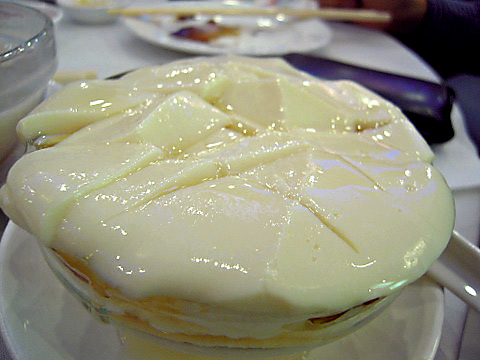 You read later that Golden Unicorn has dipped in quality since its glory days, but this is still some of the best dim sum you've had. There's one dish, in particular. It's fried sticky rice balls filled with a thin sesame paste and chopped peanuts. The dough is tinted emerald and the exterior is a golden spackle of tissue-thin crisp. Though sticky rice dough can often feel chewy and dense, this one is meltingly tender. After the server cuts them with her shears, the top is pointed, like a phoenix tear.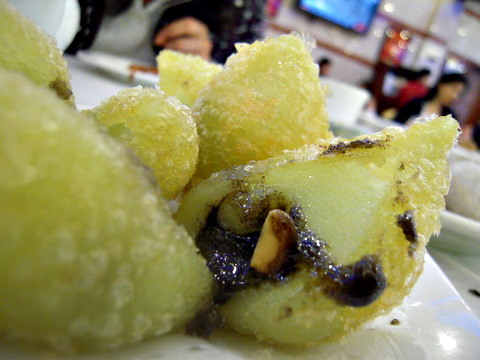 The bill is settled, and you linger for a ten or fifteen minutes. You feel your future scrutinized and decided. Your mother is happy; she rests her chin in clasped hands and gazes at you in a way that says, I might have grandchildren after all.
You drink deeply, then spoon obscene amounts of chile oil into the congee.