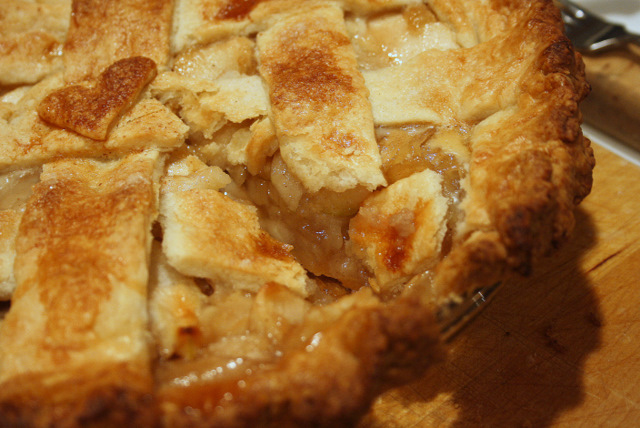 When I do something for the first time, I usually do a bit of research to make sure I'm doing it right. My first foray in pie-making – hell, baking in general – was great because I realized that baking isn't some scary, landmine-ridden challenge. Somehow, people build it up to be a lot more intimidating than it actually is.
Making a pie is fairly involved (a lot of letting things chill in the fridge), but if you follow a few basic tricks and rules of thumb, the end product ends up totally agreeable. The most important is to keep the butter and/or shortening cold, and to not overwork the dough. This is to preserve those little lumps of fat streaked throughout, which will melt in the oven and result in that coveted tender/flaky pie crust.
I left California earlier this week, and am cooking in my friend's mom's kitchen out in the 'burbs of Buffalo, NY. It is a somewhat improbable place to go on my year off, but has done wonders for skills cooking American classics (my friend Nick is wary of Asian dishes) and maintaining my San Francisco time difference. I just took a pie out of the oven at 2:30am and am blogging this at 3:15 am.
I had dinner at Nick's friend's house tonight. She served us a lovely California Cabernet and beef bourguignon over egg white noodles with freshly baked popovers. Her mother was a whippersnapper of an 81 year old who still ran her own business and gave many tips on baking the perfect pie.
I used a vodka pie crust recipe from America's Test Kitchen, using a pastry cutter rather than a food processor. (Check out their new blog, America's Test Kitchen Feed!) I precooked the filling (recipe) based on the pie expert's advice, since the apples were a bit tart, but wished I had cooked them a few minutes less. I threw in brown sugar and extra cinnamon, just because. The filling ended up very soft while the crust browned too fast on top and remained a tad undercooked.
Still, I'm pretty proud of the finished product. The kitchen smells delicious, my friend Jason gave it his programmer's grunt of approval from behind his setup of monitors, and it's not bad for Pie Numero Uno.