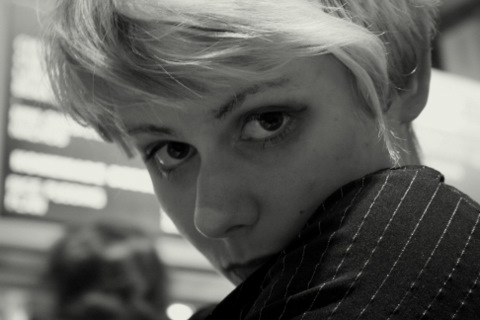 My roommate Felice is neither a typical Harvard student nor a typical pastry maker. When I first saw her, she was powder pale, with a green mohawk, combat boots, and no eyebrows. This will be interesting, I thought. Maybe we can do each other's makeup.
We lived together entirely by accident – my roommate and I at the time were looking for some more people to make a room of 5. She gamely agreed.
Felice turned out to be the brainy lovechild of a punk rock Betty Page and The Odyssey's Homer. In between translating ancient Greek texts for her senior thesis and poring over orgo homework, she watched a constant stream of L-word spinoffs and brutal slasher flicks.
One day, she'll be a surgeon, a programmer's wife, and proud mommy of the cutest pet rats ever.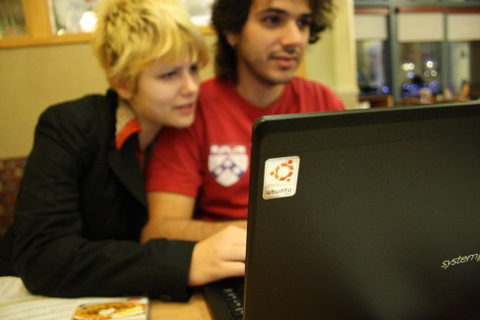 Felice and her boyfriend, Yuvi Masory, hacker extraordinaire
Felice ended up being my favorite roommate my strange, wild junior year. The five of us in that doomed rooming group were an unlikely melange of misfits – "a flophouse" she aptly described it – and it wasn't long before chaos swept our cinder block duplex.
One by one, like an Agatha Christie mystery, the room fell apart.
One girl left, amidst a swirl of unanswered questions. And then there were four.
For the rest of us, latent problems became crises. Annoyances became vendettas. I was literally scared to return my room, and when I did, I locked the door and braced myself for collateral damage. By spring semester, the bickering reached a fever pitch.
I spent most of my semester either in class or hopping from one food event to another, spending more time in Boston in a month than most Harvard undergrads do in all four years.
And then there were three.
Felice ended up being the mediator; her room was the bunker, the common room was no man's land. After she listened to everyone's problems with saintly patience, we laughed about the black comedy unfolding. In between complaints, I wrote my anthropology essays in her room decorated with 50's pinups and queer icons as she Skyped her long distance boyfriend.
In a school where people frequently hide their insecurity beneath a shiny veneer of ambition, Felice was refreshingly genuine about both. She didn't dye her hair funny colors because of some calculated counter culture attempt. She just liked dying her hair.
And she understood, perhaps better than anyone else I've met, about what it means to feel profoundly, deeply different without apology. She was silly and joyful about her quirks and didn't bother to hide them.
She doesn't collect business cards. (While I have so many lining my tote bag.) She has the same insecurities like everyone else, but doesn't fall to unwitting flashes of cruelty when she feels down. It's refreshing.
So when she takes a stab at baking, it is infused with an equally individualistic sensibility.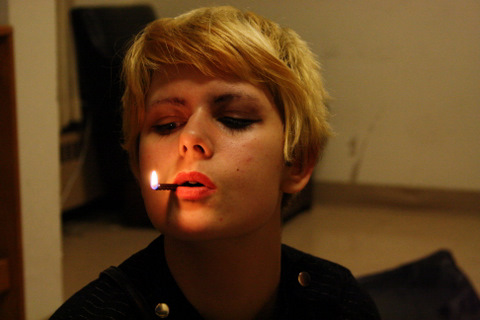 Yes, that's a birthday candle betwixt her rouged lips.
For her programmer boyfriend's birthday, Felice made her favorite stalwart Linux enthusiast a cake shaped like the operating system's logo. Earlier, we had dropped by IHOP for dinner while he showed me his flashcard generator program, executable via the command line interface.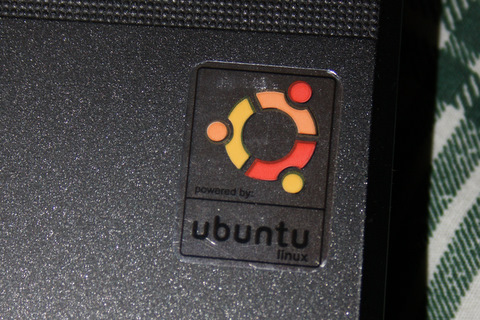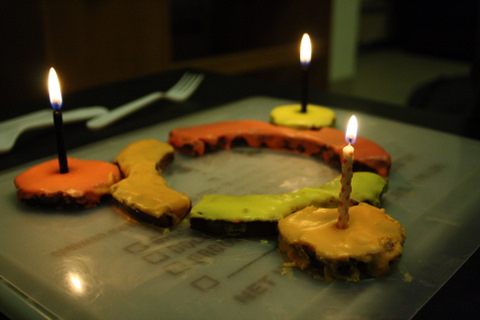 Different can be beautiful, and delicious.