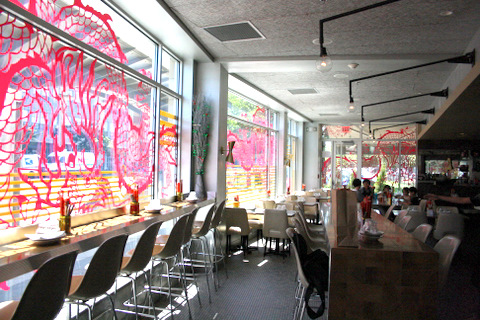 Myers + Chang in Boston doesn't fall under the category of Chinese restaurants.
Yet I frequently hear it compared to one. Chinese food in the US, as Jennifer 8. Lee would say, is the true American cuisine. It has wooed the stomach of millions. Its takeout vessels have become iconic of American culture itself. It is the gateway cuisine to other Asian foods. Myers + Chang (not Meyer's and Chang) is the post-gateway restaurant.
Asian food has been pigeonholed mostly as… efficient. There are grease-cheap Chinese food joints that seem minted from a humorless factory line. The only ambience in these outposts is the sparkle of a sputtering neon sign. Then there are the cramped Chinatown places that Chowhound loves, serving regional specialties and packing serious heat.
But as in any major market, there's room for niche players. Myers + Chang in Boston has angled itself as a pan-Asian restaurant with all the trappings of a hip bistro. It's menu is self-aware, even preciously trendy (Asian chicken and waffles, anyone?). There are gluten-free options. It has the benefit of nimbleness without the issue of catering to the lowest common denominator.
Entrees are around $11-17. The waiters don't wear those awful black vests. Food arrives on nice plates. My coke had a pink twisty straw and a lime wedge. There's an open kitchen, a crimson dragon print on the windows, and airy, uncluttered seating. You could take a date here, not spend a ton, but not look cheap.
Some people might complain you can get more "authentic" food for less money in Chinatown.
I would say they're missing the point. Even though I love the divey food experience, sometimes you just want the rough edges sanded off your Saturday dim sum brunch, you know? I appreciate atmosphere. Sometimes you have to fight for your food in a Chinese restaurant and that makes me cry a little inside. It reminds me too much of being in China, the one that travel agencies don't talk about..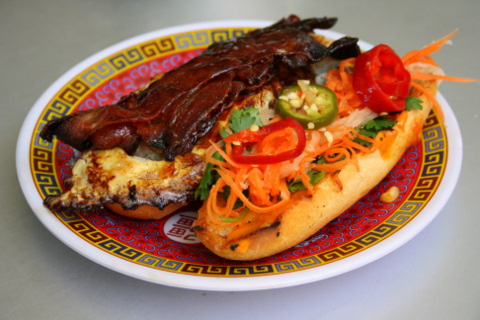 Plus, those places don't make things like fried egg banh mi! Myers + Chang does. (I took these photos with my Canon Rebel XS, for those interested in such things.)
I tried a few dishes off their weekend dim sum menu.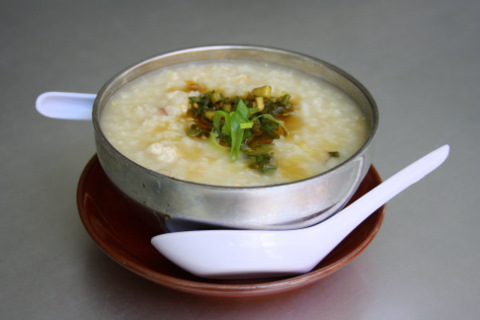 You should skip the congee. It is bland and not very good – go get it in Chinatown to experience its full, creamy glory. The fried egg banh mi is like the lovechild of an Egg McMuffin and Vietnam's most famous sandwich. (Which is itself a fusion of French and local traditions.) It's tasty, but could be improved with oozy yolk + more pickled carrots and daikon.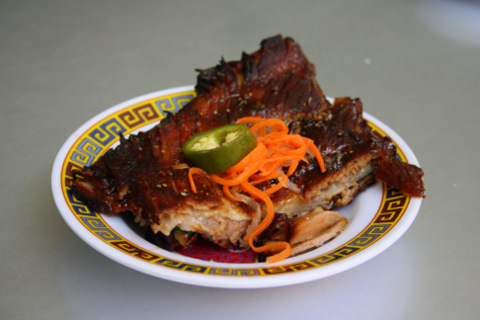 Their tea smoked spare ribs are excellent and fatty. You should pick every shred of flesh off the bones, then lick the rest off your fingers.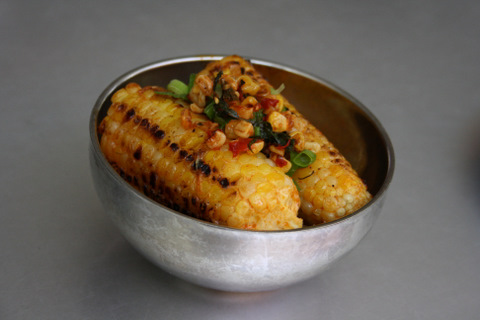 Grilled corn on the cob with Sriracha butter is juicy and a bit smoky, better than fourth of July. Anything with Sriracha is fine by me. I also tried a special. I don't remember what it is anymore, sorry. It's old age.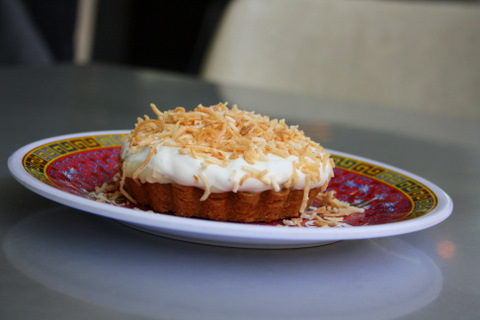 The coconut pie is a mini pie shell filled with coconut-flavored pudding, topped with cream, then sprinkled with toasted coconut. It's serviceable, and probably better than any dessert you could ever hope to get at a Chinese takeout joint.
I saw another table with pork belly buns and got really jealous. I was full by that point, but I tried scowling at them. Pork belly buns didn't magically appear as planned.
What I'd like to try some other time off their dinner menu: their Asian-braised short rib soft tacos on their dinner menu; chicken and waffles; Indonesian fried rice.
Awhile back, they had soft shell crab banh mi. Sad I missed the boat on that one.
I like this place. I think it has its place in the Asian food ecosphere. Keep doing your thing, Myers + Chang.