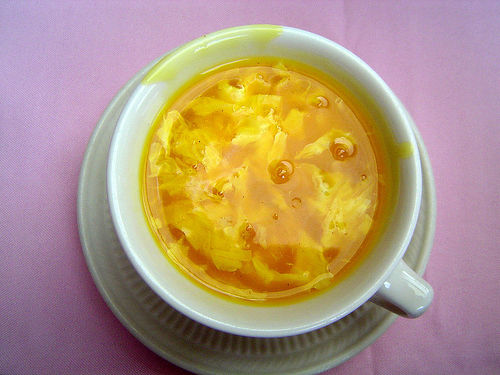 Egg drop soup, courtesy of Serious Eats' Robyn Lee
I got an interesting comment on my post about why Chinese restaurants are so cheap about a month ago. (And my friend Sam sent in an excellent post about the culinary fundamentals that work against Chinese chefs.) The reader was Jack Neefus, a Baltimore resident who works in finance and dabbles in cooking and travel. He's been to China few times, including my dad's hometown of Heilong Jiang.
I asked if I could repost his comment, so he took an extra step beyond to rewrite it into a thoughtful essay. For space purposes, I'll recap the beginning and excerpt my favorite parts. (I'm so high on my editorial power. You have no idea.)
Jack makes an economically-driven argument for Chinese restaurant owners' motives. Chinese restaurants, he contends, are frequently owned by immigrants who view their businesses as a relatively stable form of income, compared to the restaurateur driven by love of cuisine and hospitality.
In his writeup, oversupply and price competition are major issues. One interesting point he raises is that American Chinese food tends to favor cheap, bulky vegetables that don't require a lot of cleaning or cooking, and maintain volume. Ex. broccoli and onion. He also touches on the commodification of Chinese food, and how it's now viewed as another fast food category with a factory-issued menu.
I found that his personal experiences (let's call them abbreviated case studies) added the most value to his argument. He draws on his connections in China as well as Baltimore to make some pretty provocative statements.
Jack also breaks down the variety of niche, higher-priced Chinese foods, ranging from jacking up the decor to regional dish specialization.
If you're nerdy about food (as I am), this is a fun read. I don't necessarily agree with all of his logic or assertions, but that's part of the fun.
Please chime in with your own experiences, thoughts, or rebuttals.
Will Chinese Restaurants Ever Become More Expensive?
by Jack Neefus
Here's a cross-section from my experience seeing Chinese restaurateurs driven more by economics than culinary aspirations:
1) Tony has run a modest restaurant for years, carved out of a gas station on the Maryland Western Shore.  He has been successful enough to set up restaurants in other cities for each of his children.  But he is not particularly interested in food per se, and spends much of his week now hiring Chinese day laborers and subcontracting small commercial renovation projects.
2) Wu-Jin has owned seven ordinary Chinese restaurants in Baltimore. She saved enough to buy a small apartment building, and has sold her restaurants to focus on multi-level marketing.
3) Pan came to the US from Fujian without his family seven years ago. He is working class, illiterate, and has never learned to speak English.  He opened a restaurant in Florida which netted $70k annually at its peak.   He then took on two partners to start a large Chinese buffet in Florida and went bankrupt.  Pan now lives New York's Chinatown and is working construction.
4) Li-Min, my girlfriend's brother, owned a seafood restaurant in Heilong-Jiang before giving it up in a divorce.  Li-Ping has encouraged him to come to America and start a higher-quality, more authentic Chinese restaurant, possibly a hot pot establishment.  However, he runs a heating and appliance business with his brother now, does not speak English, and he would see it as a big step backwards to emigrate to the US.
These stories are typical of Chinese restaurant owners and illustrate why the industry has never been a source of culinary innovation in the US. [Ed. note: Pretty strong statement. Do you agree or disagree?]
Attempts to create a higher-end segment of Chinese restaurants are hamstrung by price expectations set by downscale places that rely heavily on takeout. But most restaurant owners would like to be able to charge more.
Is there a potential market for more elite, expensive Chinese restaurants with more accomplished chefs and more authentic dishes?
There are actually several ways this may take place:

1) Inauthentic Chinese Food in Better Surroundings. Strangely enough, one of the few places to have broken through the price wall is PF Chang's. While not authentically Chinese, they serve versions of American Chinese dishes along with cocktails in a nicer atmosphere in locations where American consumers expect to spend more. PF Chang's competes with places like The Cheesecake Factory and The Macaroni Grill, and the average bill per customer reflects that.

2) Chinese Specialties that Appeal to American Tastes. Authentic Chinese hot pot or 'Muslim restaurants' goes over very well with Americans.  It is commercialized in China by chains like "The Little Fat Sheep," but stateside has only been introduced into California.  There's no reason this segment shouldn't become nationwide.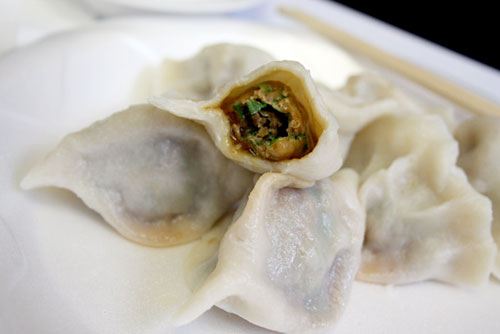 Dumpling restaurants are another authentic Chinese category that goes over well in the US.  There are a few storefront restaurants, such as China Bistro in Rockville, MD, who offer an expanded range of dumplings as the main draw, but nothing like the establishments in Chinese cities.  Ingredients can vary from vegetables to lobster, and presentation can be upscale and whimsical.  In the right setting, it could easily become a trendy category.
3) Authentic Haute Cuisine. Americans tend to dislike many authentic Chinese luxury dishes such as shark's fin or bird's nest soup, and are unwilling to pay high prices for them.  But American foodies tend to like a variety of unusual items on the menu even if they're not ordered.  Having them on the printed English menu, and not just the verbal Chinese menu, may now draw customers rather than repel them.  With the huge influx of upper-middle-class Chinese immigrants, the potential to find consumers and not just voyeurs is greater as well.
Americans expect a fine dining experience to include décor, and here too trends are changing slowly but noticeably.  China itself has experienced a wave of lavish and artistic restaurants, and some new Chinese restaurants have gone beyond the fish tanks, horoscope placemats, and mountain posters.
Hunan Taste, a new storefront restaurant in Catonsville MD, features hardwood floors, carved calligraphy, and high-end furnishings imported from China.  Their menu has items like fish intestines along with spicier and more authentic Hunan dishes than American patrons are familiar with.
If that trend continues, you may one day be able to walk into a restaurant in New York and order bear's paw or Pao Yu snail in a spectacular setting for the same outrageous prices you used to pay at the Quilted Giraffe.
Lingbo's caveat
I thought I'd add here as well – just as there are great Chinese chefs who care about their craft, just as there are lackluster American chefs who just want to put out a burger that doesn't get sent back.