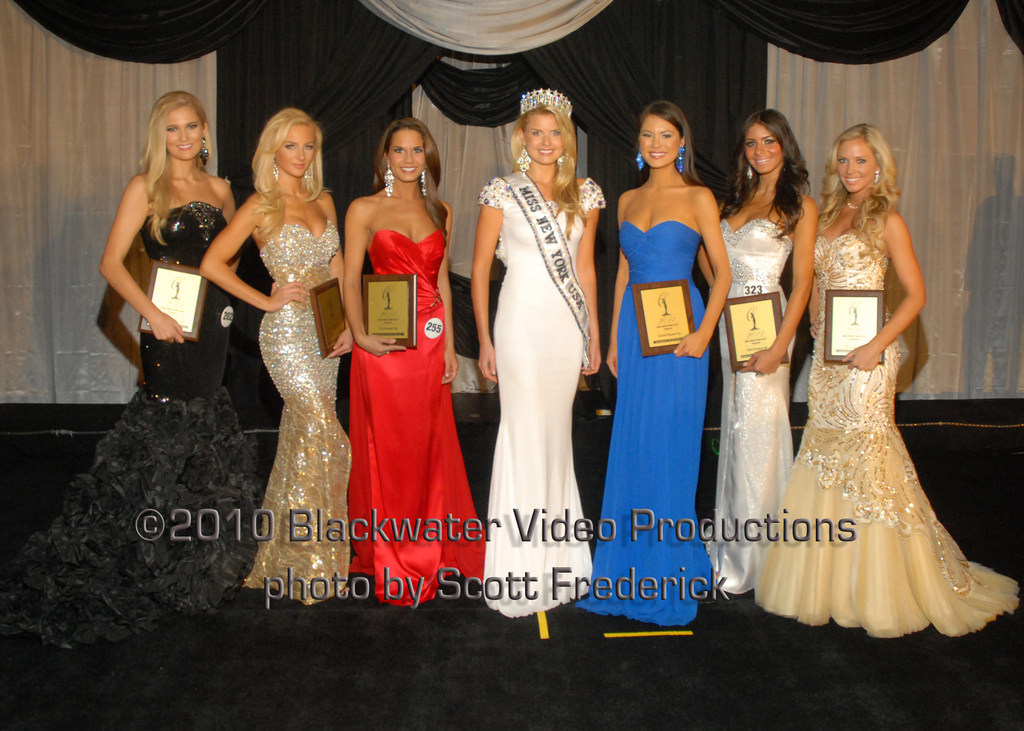 Looking at this 2011's Miss New York USA's top 7 unearths no new memories. The white-garbed winner, Amber Collins, took the lead. About one year ago, I entered and lost my first beauty pageant in that same hotel – and I've mentally walked through every moment of that weekend five times over.
What you don't see from looking at the photos or watching Miss USA in the spring is how these women get there. How low rent state-level competitions are. How the contestants who never get anywhere look. It's a bizarre and fascinating experience, one that I wouldn't dissuade any woman from trying out herself.
I can only describe it as a brain-bending, empty calorie endorphin rush, like drinking a pink can of Tab in one enormous gulp. It's watching the water turn brown as you wash off the pancake makeup. It's the exhaustion as you perfectly turn out one false eyelash for the fifth time. The headiness of a post-workout glow, then staring yourself down in the gym mirror, hair wispy and skin sallow. Then you look around and realize that all your efforts are for naught – the girls who end up in the top ten rigged the genetic lottery in their favor.

Truth: A State Pageant Isn't Glamorous
Mostly, though, it is realizing what a cheap, tawdry spectacle a state pageant is. The audience is filled with family members; the runway is in the same room a million bored hotel guests have brunched in; the vast majority of contestants are not Amazonian, but rather, perfectly ordinary girls with cellulite snapped into prom dresses. It's produced suspiciously like your high school talent show, but with a $1000 entry fee and everyone's talent is walking in lucite platform heels.
What are these girls even competing for? The prize package is getting your entry fee reimbursed, plus some donated baubles and a small scholarship you'll never use to a school you've never heard of. You get to spend a month doing photo ops and rehearsals in Las Vegas in hopes of becoming Miss USA. If you win Miss USA, you try to win Miss Universe. And then… You're a beautiful woman. Paparazzi snidely speculate on your plastic surgery. Congratulations – you spend your days traveling, doing charitable work, making appearances, and maintaining the good lucks that won you your title.
Of course, you can use your title for good, to advance a cause you believe in or use the appearance schedule to groom your public speaking. Maybe it will help you land a modeling or acting job you've always dreamed of. Some incredible women, accomplished in their own right, have won crowns too.
The rest end up with a gift bag or a plaque if they're lucky. In photos, outsiders only see the one girl who won out of 200 entrants. The ones who don't win are infinitely more interesting.
Truth: They Don't Actually "Select" You.
… If only because you can smell, at the grassroots, the booming heartbeat of the beauty industry. Why do so many women fork over $1000, pay for their own expensive evening dresses and swimsuits never to be swam in, to walk down some cheap runway for a crown unlikely to materialize?
It's because contestants truly believe they were "selected" to participate after applying and getting an email telling them they've been "accepted". That the color of their money, to a producer, is different than anyone else's. This is not every contestant, but it is significant proportion. I would see some girls so clueless that I would offer to lend them hair curlers and makeup to assuage my guilt.
My own optimism swung wildly from one pole to the other, coupled with uncomfortable feeling that entering a pageant seemed to give classmates the provisional right to judge me.
Truth: The Swimsuit Portion Is Not That Hard
To announce you're entering a pageant is to open the floodgates of judgement. It is every student's worst fear – making oneself vulnerable to strangers, to fail so spectacularly and publicly.
I will never regret entering Miss New York USA 2010, however, because I found that no one really cared that much I had failed. It was an instructive experience. No one had really expected me to win, I think, and there was something incredibly freeing about that. I was more fixated on my small gaffes – swinging one arm too much walking in swimsuit, awkward interviews with judges – not on the crown I had never felt was mine in the first place.
And for the record, I found that one doesn't feel ashamed onstage in a swimsuit so much as blinded – the lights are bright; they say your name, you walk, shivering with anxiety, stomach taut and starved. Then the camera flashes. You are done. You feel euphoria, relief.
This is what they call "everyone is a winner." You've just survived, or you've been suckered. It's not hard to see why the first option is more appealing for most.