I'm sitting in my office, knees up to my chest, shoes off, eating a lemon-cranberry-poppy-seed muffin from Flour, trying to figure out what the heck happened in 2013. I'm about to turn a quarter of a century old!
2013 was the year that I made a few life changes: I got into a serious relationship, went completely solo with my freelance business, and got my own office space. 2013 was, in some ways, less of a globetrotting Carmen Sandiego experience than 2012. Sure, I made it back to Thailand and dropped by Tokyo for a few days, but I've spent so much time in Thailand that I barely count it as traveling, you know?
What I've been up to: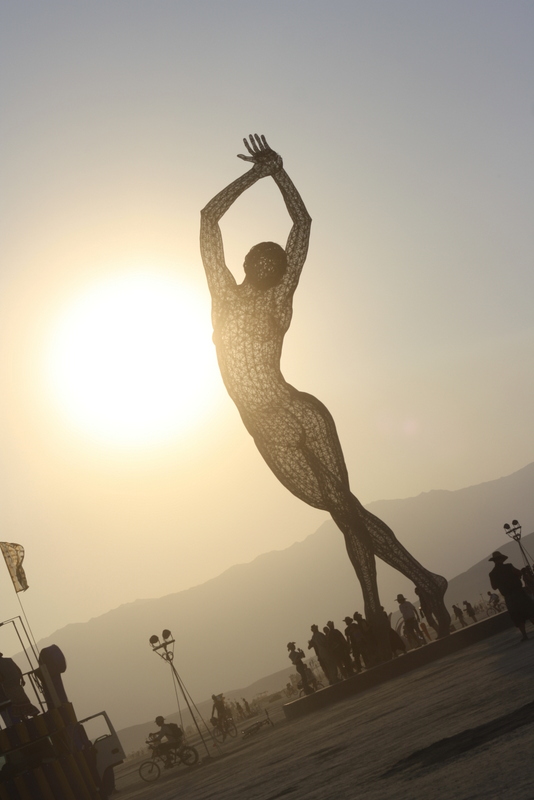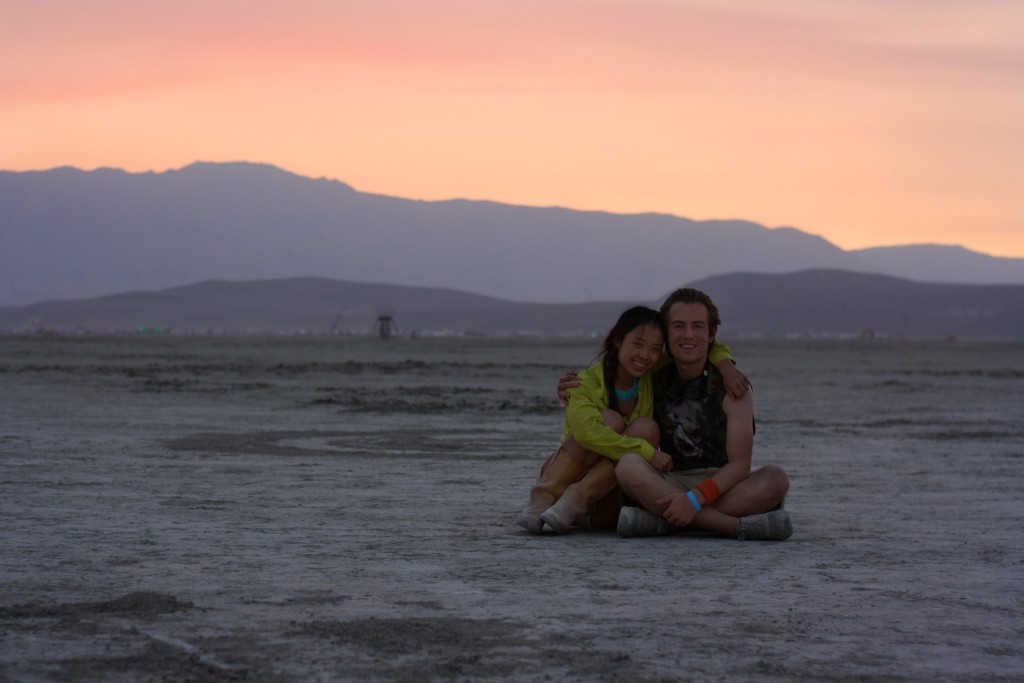 Playa love!
Did Burning Man, round 3 with an amazing group of nerds. Over a week in the desert, eating grilled cheeses and sushi made with canned tuna and black beans with cheese and salsa, cooking out of a filthy U-Haul. Riding through punishing heat on a little boy's bike, tag still attached. Hitching a ride on a double-decker unicorn. An LED climbing wall; a wedding in a handmade castle; a sunrise over an alien temple; a morning lying on the faux fur floor of the Enchanted Forest. Some of the kindest, most generous people I've ever met, in the usual desert regalia of handkerchiefs and tassles and tutus. What psychedelic are you speaking of? you might ask, as campmate meanders through an alphabet soup of enlightened recollections. The response is the breathtaking precision of a chemical structure. You taste the joy of science: it is a kind of spirituality, an underpinning of logic and natural law. Ground beneath your feet.
Felt a little bit more Republican. Business grew this year, which is good, but I have to pay more to the government. I was trying to figure out my estimated taxes for the year, so I emailed my accountant. He said, why don't you come in. I did, and we chatted for awhile about tax implications of different income sources. Self-employment tax is absurd — it just about doubles my total tax bill. I get a letter in the mail a few days later. Oh, my accountant is sending Christmas cards to his clients! I think, seeing the holiday stamp. I open it, and find out I owe him $150. Shit, I think. Should have known better.
Wrote 2 shitty short stories in a fiction class — taken at Grub Street. Well, shitty in the sense that they're in progress. At least that's what I tell myself. Shitty first drafts, as Anne Lamott wrote, are where we all start. Sometimes sentences will wriggle themselves into my mind, and I jot them down in a text file. They are just these little nibbles: eating ramen with a broken fork handle, hippies in Goa in the 70's, dealing with asian fetishists. I try and write a story, which doesn't go anywhere. Right before I was writing this, I wrote 3 other attempts at stories. I can never quite figure out if I'm writing about my life or not. Making stuff up feels uncomfortable, somehow. Even assigning a different name to a character inspired by a real person feels dishonest. Oh Asian lady Junot Diaz, where art thou?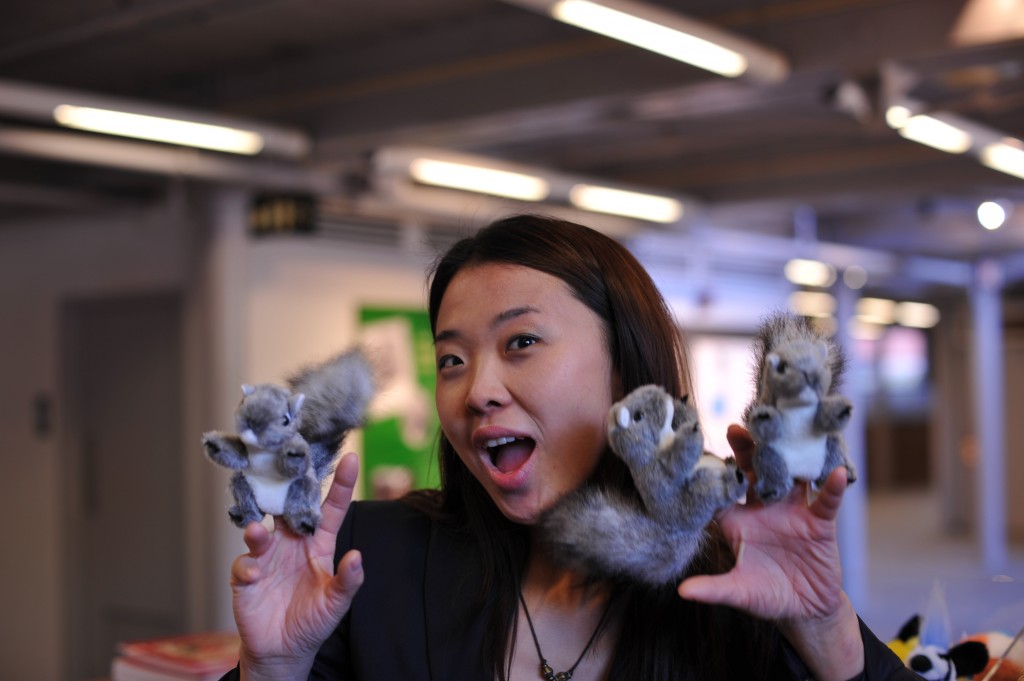 Meditation is pretty unexciting to look at, so here's me with some squirrel finger puppets. 
Discovered I'm literally allergic to stress. I wrote about my first 10 day meditation retreat, but I didn't actually maintain daily practice after it. Looking for an escape (or a confrontation, since meditation retreats are a bit of both), I did a shorter 3 day course two weeks ago in western Mass at the Shelburne Vipassana center. As a lifelong neurotic, awkward person with concentration problems, meditation is frequently cited as a tonic for my twitchiness. My skin was also suffering: I had what looked like hives and rash over 30% of my body and trouble sleeping and concentrating at work because the itching was getting so bad. I spend hundreds of dollars buying a wardrobe of Lululemon long sleeve shirts to wear, since my arms were both itchy and distractingly ugly. Here's the crazy part: the hives-like red blotches, which had lasted for 2-3 months, disappeared after exactly one day of the meditation retreat. By day 3, I had only a few faint scabs left.
Basically, I'm allergic to stress. I can't explain it any other way. Changing up foods, temperature, laundry detergent, gluten, various creams/lotions don't really do much for me. Some things help, but I've never seen such absurd results except with meditation (or going on a short vacation also works). It's like my neurotic mind junk just comes out my pores, literally.
I'm now meditating for 20 minutes in the morning and evening. I've still had good and bad days, but more good than bad. I could cry in relief — that I don't have to spend 2 hours a day, trying not to scratch my arms until they're bloody. I can even wear short sleeves. This is huge.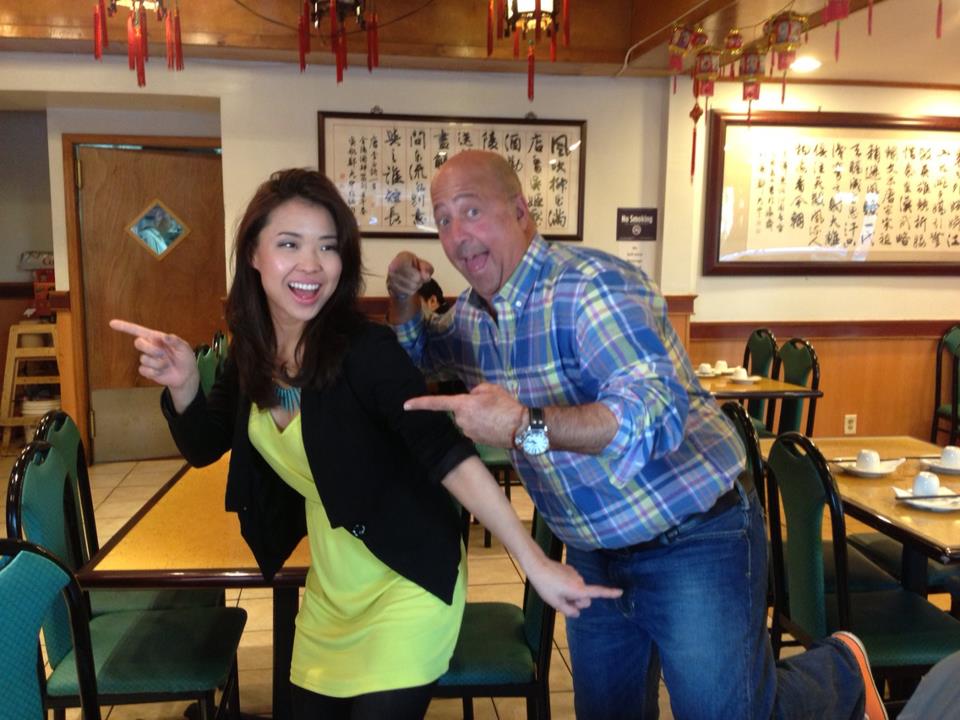 Had my first TV appearance. It was actually incredibly fun to film Bizarre Foods with Andrew Zimmern. The crew was really nice as well. Checked it off the bucket list…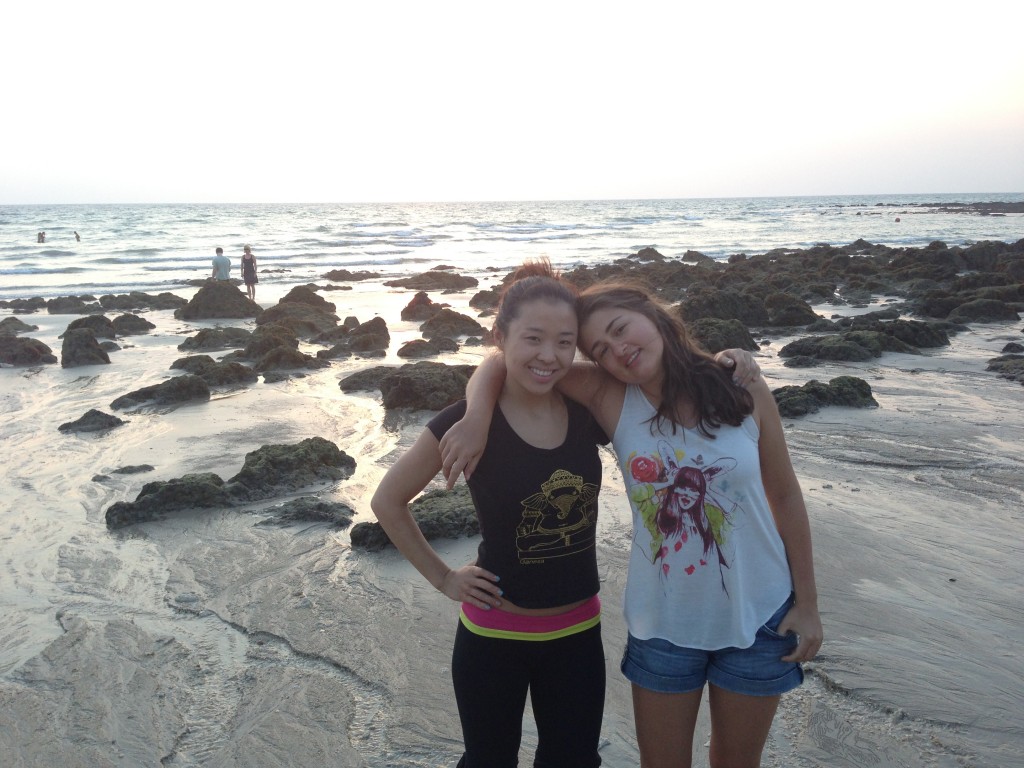 Hung out with friends. That's me and Rachel in Ko Lanta, Thailand. I also met some Tim Ferris-influenced entrepreneurs in Chiang Mai who were awesome and visited my friend Marco in DC. He led me to Little Serow, an absolutely amazing Thai restaurant. You gotta go.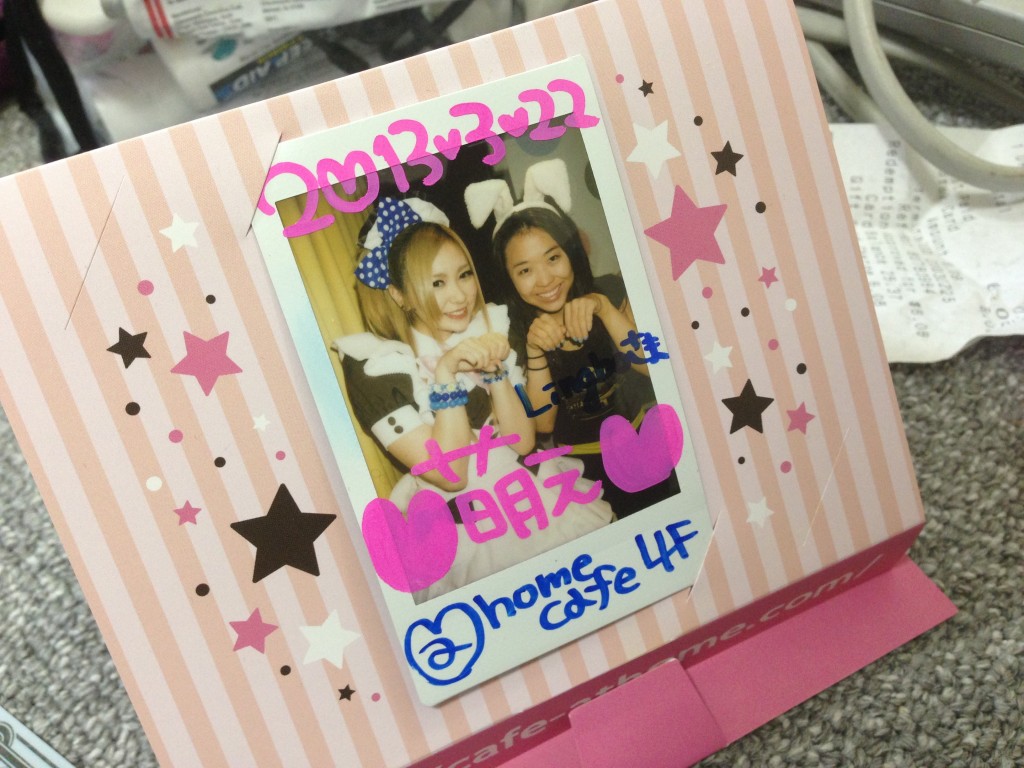 Me at the maid cafe.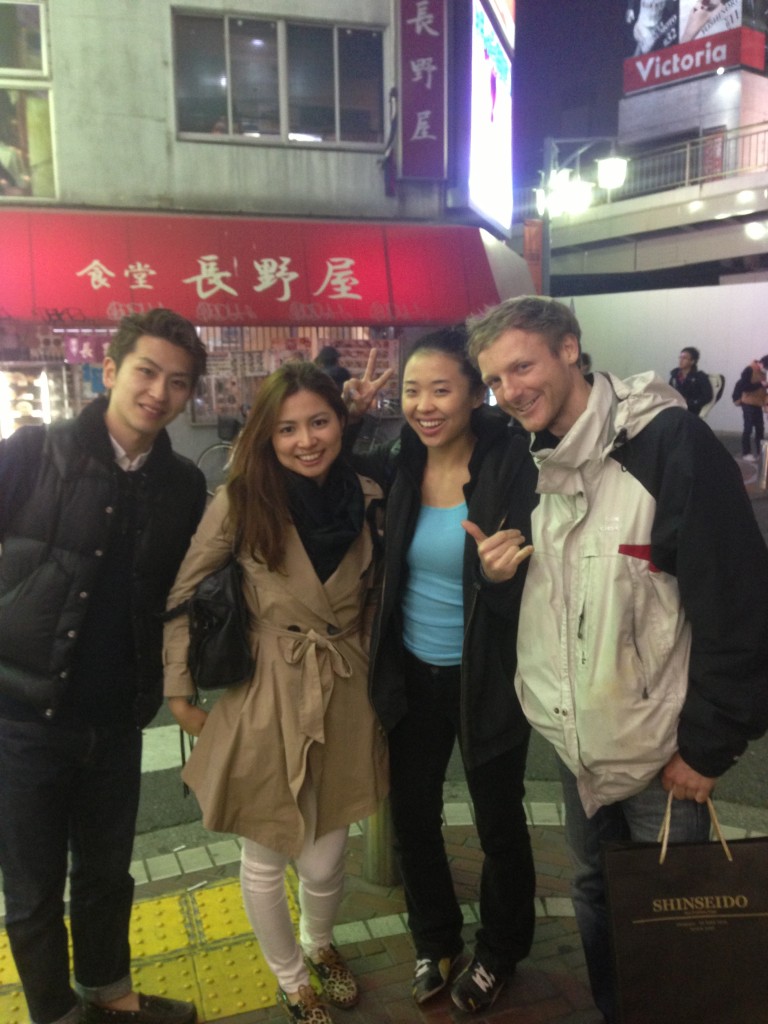 With David and some new Japanese friends! 
Met some crazy people on the road. In Tokyo: I couchsurfed with a French guy named David. He had hitchhiked and couchsurfed for 2 years straight in Europe, and had some crazy scheme of learning 8 languages in 80 months. When he couldn't find a place to stay on couchsurfing, he'd walk up to people in the train station, ask them if they'd heard of couchsurfing, and ask if he could stay at their place. I just loved Japan overall, and it's at the very top of my list of places I'd like to explore in detail. I loved the food (of course!), and the orderly, neat way things ran there. I went to a cat cafe, a maid cafe, and a psychiatric prison themed restaurant where the waitress stuck a vibrator in my mouth. (About as weird as it seems.)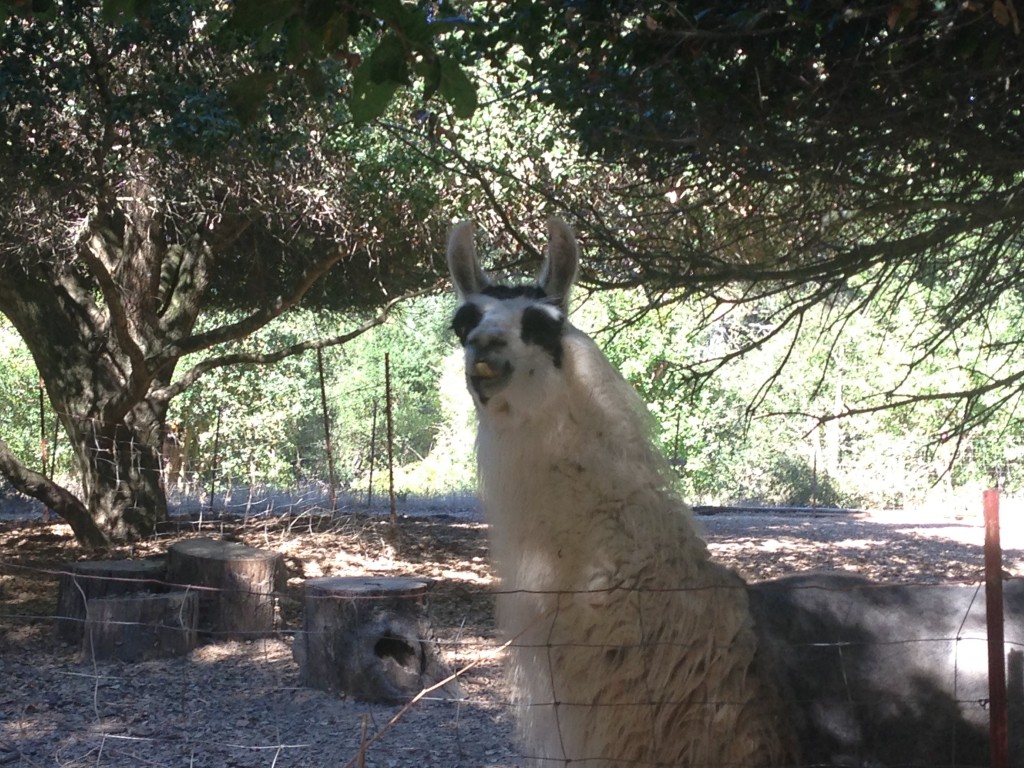 One of their surly llamas.
In Sonoma: I was watering my friend Dan's Bonsai trees over the summer. He had Airbnb guests staying at his place in Cambridge, and we ended up chatting while I was watering the dozens of little trees on his balcony. They were a really nice couple from Sonoma County, California, with a son at MIT. The father recalled taking his son to Burning Man, and getting in the midst of a light saber battle. He invited me to come visit their house in Sebastapol. House is not really an adequate description: it was a huge property, with an apple orchard, a vineyard, 2 surly llamas (!), a few shy goats, a water tower-turned-treehouse, a land boat-turned-apartment, a couch swing, a bocce ball court, and a house they'd designed themselves, with solar power. It was pretty magical. I cooked them a dinner that I got predictably anxious over, played bocce ball, ate apples from their orchard, and watched a documentary about a harmless Asian fetishist marrying his mail order Chinese bride ("Seeking Asian Female"). Can we live on an apple orchard in Sonoma with llamas and a water tower? I asked my boyfriend. And design our own house? He humored me, saying it seemed like a nice life.
But really, I just work a lot. There's this whole issue with social media, where only the shinest bits of people's lives get publicized, making you feel inadequate. And I'm guilty of that. I'm not going to put up some photo of myself where I looked like I got whacked with two black eyes and I'm about to pass out over my laptop. Most of my days are spent wearing either my yoga pants or my stretchy denim jeans, getting to the office before 10am, and working late to hit client deadlines. I actually like working (and routine is a thing of beauty for some shifty, creative folks), but I don't spend everyday running around Tokyo eating sushi. Only like, two days.
Well, this got long. Hello friends, new friends, soon to be friends – let me know if you have ideas for what I should do in 2014.