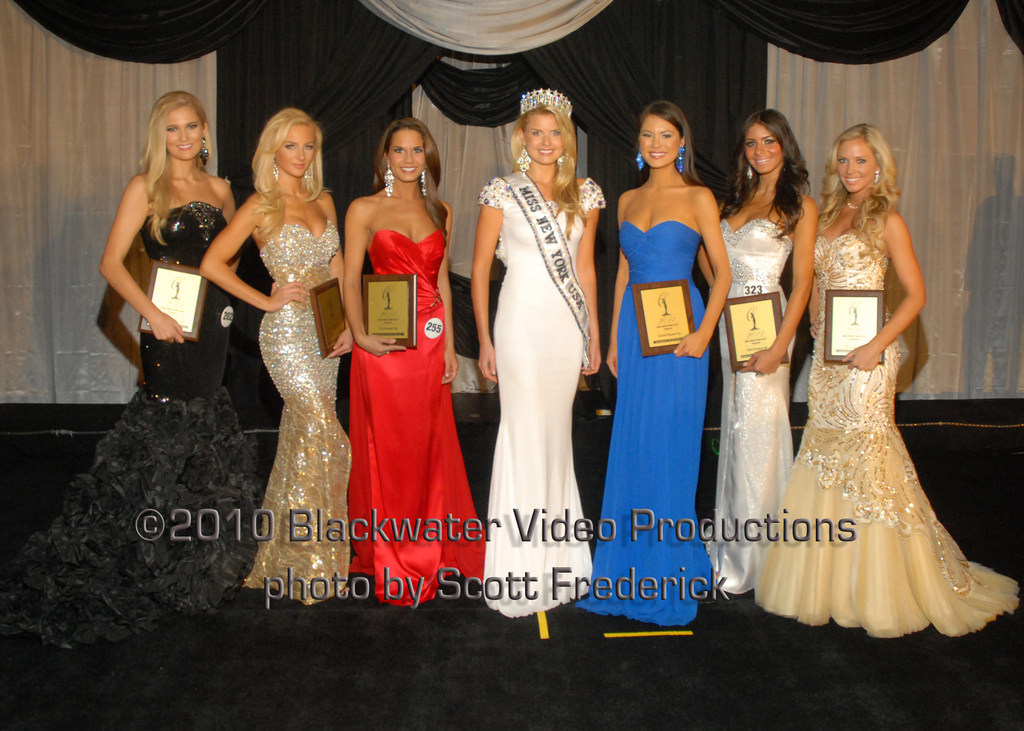 Looking at this 2011's Miss New York USA's top 7 unearths no new memories. The white-garbed winner, Amber Collins, took the lead. About one year ago, I entered and lost my first beauty pageant in that same hotel – and I've mentally walked through every moment of that weekend five times over.
What you don't see from looking at the photos or watching Miss USA in the spring is how these women get there. How low rent state-level competitions are. How the contestants who never get anywhere look. It's a bizarre and fascinating experience, one that I wouldn't dissuade any woman from trying out herself.
I can only describe it as a brain-bending, empty calorie endorphin rush, like drinking a pink can of Tab in one enormous gulp. It's watching the water turn brown as you wash off the pancake makeup. It's the exhaustion as you perfectly turn out one false eyelash for the fifth time. The headiness of a post-workout glow, then staring yourself down in the gym mirror, hair wispy and skin sallow. Then you look around and realize that all your efforts are for naught – the girls who end up in the top ten rigged the genetic lottery in their favor.
(more…)
Once upon a time, I was a contestant in Miss New York USA 2010, and I blogged a lot about it. And posted photos of my experience.
If you read coverage, you'll find that I had a positive experience overall. I also noted in my paper that my dieting/exercising/obsessing was probably more appropriate for someone competing on the national level – so my stress level was definitely more elevated than many other contestants.
I ended up not only blogging about the experience, but writing a 24 page paper on it. The paper was written in about two days… and the class was on the anthropology of consumerism, which explains why I focused on beauty as a commodity.
Here's an excerpt, the conclusion, which has been edited for general blog-y consumption.
A beauty pageant is actually a very democratic competition. Anyone can enter, as long as they cough up the entrance fee an pay for their wardrobe. Contestants are treated fairly and equally – we all wear numbers, receive the same gift bags, and sleep in the same dorm rooms. There are no height or weight requirements.

But the fact remains that there's only one girl who gets the crown.

Some of the contestants are models. Many of the top 20 had done at least some modeling work in their lives, and the girl who eventually ended up winning, Davina Reeves, is signed to a modeling agency. But the vast majority were fairly normal girls. Many were short, heavy, plain, and did not have expensive dresses. Some were pretty, but not tall, slender, or striking enough to have careers as models. Some wanted to be actresses or astronauts, some ran businesses, many were students.

I was confused at first why so many of these girls were entering a pageant. It was an expensive and time-consuming task. Did they actually think they had a shot at the title? (more…)