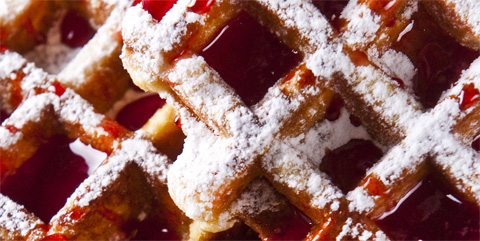 This exclusive tip just in: Zinneken's, a Belgian waffle shop, will be opening in about four months in Harvard Square.
Zinneke in Brussels dialect means someone of mixed origins, which not only represents the founders, but also their ambitions to introduce authentic Belgian food to Bostonians. They promise that Zinneken's baked-to-order offerings will to put your standard Americanized "Belgian waffle" to shame. Zinneken's signature showpiece is the Liège waffle, aka sugar waffle, which is sweeter, smaller in size, and denser than their conventional brethren.
But it gets better!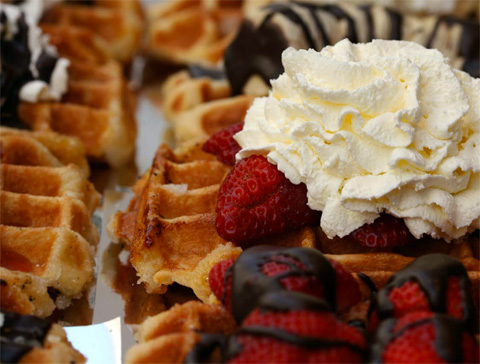 All photos courtesy of Nhon Ma.
These sugar waffles ($4-6) are named for their caramelized sugar coating and will be served with everything from Nutella to Chantilly cream. I particularly like the proposed "Oreos Freakin' Party" (no joke) special which involves a grind-tastic blend of Oreos, strawberries, and whipped cream. See the menu from their brochure below.
Harvard Square's Waffle Pioneers
Who would chase the perfect waffle recipe across continents? One founder, Nhon Ma, is a Harvard grad who jumped from the corporate world to pursue his true passion: food. But it wasn't a random coincidence, by any means. In fact, his mother was the only Asian chef to ever get a coveted Michelin star in Europe. After spending his childhood taste testing her creations, Nhon cut his teeth by working for her.
He met his business partner Bertrand Lempkowicz in high school, who's leaving behind his Brussels communication company to join the venture. They're still in the process of signing the lease, but envision the shop will be "a cosy European atmosphere" that serves up authentically light and fluffy waffles to passing crowds.
Photos from their Facebook page and Twitter show a test run of snackers munching on waffles with a variety of toppings.
Beyond waffles, Nhon promises that Belgian chocolate, French macarons, flourless fudge, Belgian chocolate brownies, and sweet crepes are also in the works.
Their retail space will be at 1 Mifflin Place, #400. Looking on Google Maps, it looks like it'll be near FedEx and Harvest. Actually, this is their administrative space – the actual location is under wraps. Nhon reveals that it'll be closer to Harvard Square, not far from Tommy Doyle's andUpstairs on the Square.
Can't wait! Look forward to an interview with Nhon Ma coming soon.
Their tentative proposed menu – with delicious photos! – after the jump.