After 2 months of backpacking through Southeast Asia, I have my luggage down to a science.
The most important part of packing is to not pack anything. It's too easy to just hear this statement and just go "yeah yeah yeah, I'm going to bring my travel-size hair dryer and travel-size hairspray and only 4 pairs of shoes because everyone needs their slutty pair of heels."
No.
Put all your crap into your backpack. God forbid you bring a suitcase. Have you tried arriving at an island in a rickety wooden longboat, wading through waist-deep water, and then trekking for half a mile across a beach with a suitcase? Because I have.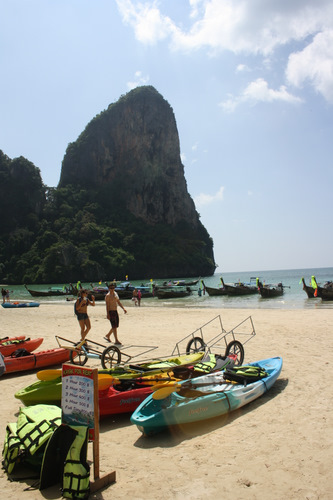 Do you see those little boats in the water? And how they aren't directly on the shore? You have to walk through that water. 
Then go to the gym, turn off the A/C, and go for a brisk walk on the treadmill for 1 hour straight while sweaty weightlifters beat you up, mosquitoes attack you, and someone blasts ABBA in the background. (This is a frighteningly accurate depiction of arriving in a new city.) See how much you want your travel-size hairdryer then.
These are the clothes you should bring, and the ONLY clothes you should bring for Southeast Asia (list tailored for females):
– 2 tshirts
– 2 tank tops
– 1 pair of shorts
– 1 pair of light pants
– 7 pairs of underwear
– 2 pairs of socks
– 2-3 bras
– 2 bikinis
– 1 pair of flip flops
– 1 pair of sneakers
– 1 black convertible pencil dress from American Apparel
Don't even THINK about bringing anything else.
Once you're there, you should purchase:
A sarong will save your life. A sarong is the most versatile and amazing thing in the world. It's more awesome than Santa Claus covered in rainbow sprinkles.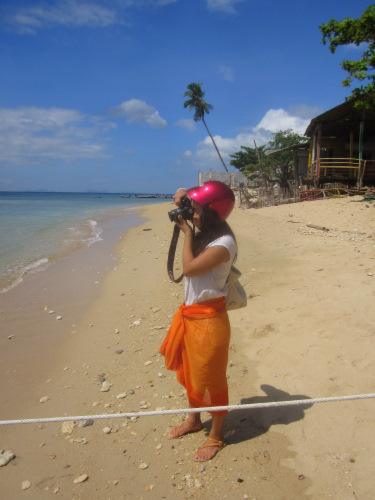 That's me, rocking a sarong on laundry day at the beach in Ko Lanta, Thailand. 
You can wear a sarong as a flowing tube top. Or a halter dress. Or a skirt. You use it as a bag. If your sheets are kinda gross, you can lay it on top and not fear catching yet another weird skin disease. It's a fantastic beach towel, head wrap, modesty shawl for temples, pillow case, and blanket for chilly bus rides. You can fold it up and prop your head on a windowsill. It is amazing, dries quick, packs light, and the possibilities are limited only by your imagination and manual dexterity.
Don't forget to bring a first aid kit and sunscreen (sunscreen is not cheaper in Asia than at home). You can always buy this upon arrival at a 7-Eleven, but it's convenient to have. Every single scratch and cut gets infected with alarming speed in the tropics.
I never really paid attention to cuts back home – they inevitably healed up without my intervention. But I've become an iodine nazi now, swabbing antibiotics every 2 hours and changing bandages twice a day. Because infected cuts ain't fun!!
Equally important is HOW you pack your backpack. Remember this: plastic bags are your friend.
Put your tops and dress in one bag. Put your bottoms in another. Bring another plastic bag for dirty clothes. Bring zip-locks for your chargers, USB, makeup, first aid kit, and other miscellaneous items. When you arrive in your ganky-ass hostel, this will save you from having to dig up the entire contents of your backpack to find your swimsuit, only to repack it hastily upon departure. Just remove the plastic bags and put them back in once you have to go. Easy!
Now you are ready to go on an adventure.*
*And by adventure, I mean hanging out with drunken British teenagers on their gap year.