My sojourn to Beijing was marked mostly by my daily (nay, twice daily) visits to the altar of that is holy in the Middle Kingdom: Starbucks, charmingly translated/transliterated as "星巴克" (xing ba ke). There, I soothed my cultureshock embattled soul with endless tall iced coffees; occasionally, I'd spring for a muffin or biscotti, which tasted excruciatingly American. It was like imbibing a potent concoction of NASCAR, Elvis, Old Glory, and apple pie.
When I wasn't ensconced in Starbucks, I'd be wandering the streets, trying to find a nice, small eat. As I made my way down Beijing's Wangfujin shopping street, I found their "xiao chi jie," or snack street.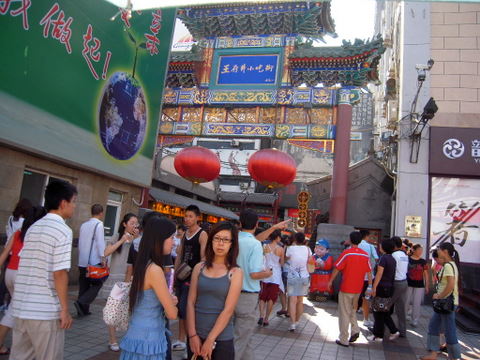 I knew they sold weird crap on sticks, but I had no idea that the scorpions on those skewers are actually alive. Best of all, the sellers would occasionally give the counter a slap, just so the little critters would wriggle their sad, doomed little legs. Can't you hear their anguished cries? Neither can I.
Just to prove they're alive, I uploaded a video.
I actually didn't eat this, since I got a case of sticker shock. 20 kuai! For a kebab!! Of scorpions!!!
But I did what comes next: bull penis on a stick. I've totally emasculated that poor animal, brains, balls, and all.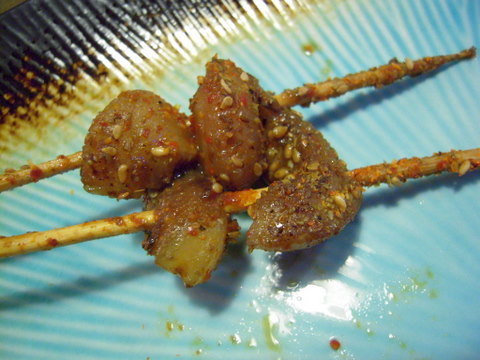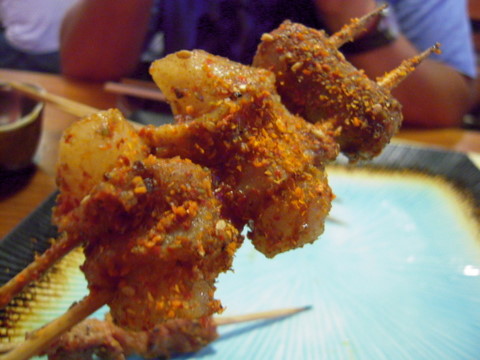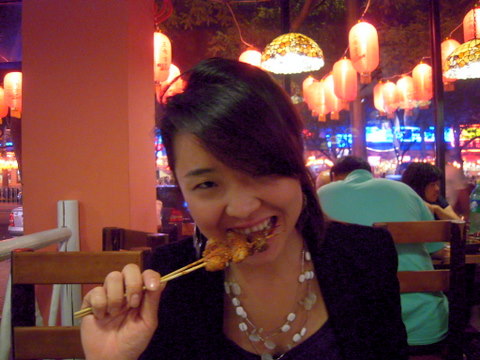 Mmm. Uhhh. This is unpleasant. My male friend also gave it a try.
What does it taste like? Not very good. But it also wasn't prepared very well – it had gotten very gummy and had an unpleasantly gluey texture. The texture varied from the shaft, which was wider and had a harder, almost cartilage-like core, to the tip, which was just gooey nothing.
I don't think i want to repeat the experience anytime soon, but maybe I can blame it on poor preparation.
To cap it off, here are some photos from the Forbidden City, predictably overrun by tourists, including this overzealous Chinese woman covered by not only a parasol, but also a towel and sunglasses (not pictured).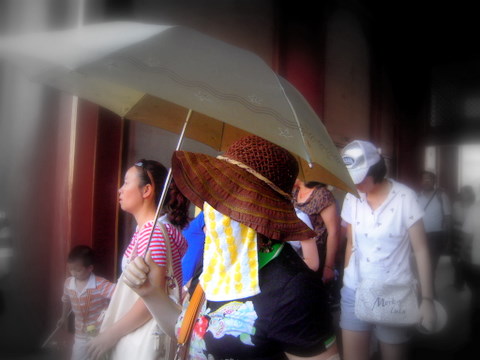 Look how intense that is!!!