At home, I usually pride myself as a reasonably put-together person. I may only wear one pair of shoes… but they're a pair of platform wedges. I wear more dresses and skirts than the average college student. I at least attempt to swipe on black eyeliner and some concealer.
However, backpacking takes away all your pretensions. There you are, dancing away in light-up Minnie Mouse ears and sweatpants while some Australian dude spills a bucket of whiskey coke all over you. Oops. God forbid you get in the way when a Thai bartender slams a beer bottle on belligerent reveler, knocking him bloodied and unconscious.
So let me share my style lessons.
1) Flip flops. I've scaled steep, slippery rocks in a bikini and flip flops. I've motorbiked in flip flops. I've partied in flip flops. I would probably scuba dive in flip flops if it made any sense. Pro tip: after Full Moon Party on Thailand's Koh Phangan, hundreds of flip flops wash up on the beach by mid-morning. Free flip flops galore!!
2) Parachute pants. You see all those hippie backpackers with the dreads and funny looking pants. You laugh at them silently and think, gross hippie backpackers! I'm not like them! Then your hair gets all dusty and matted and locals ogle you because you're wearing shorts and a tank top, plus it's just really hot. Then you realize that parachute pants are God's gift to backpackers: cheap, comfortable, cooling, light, and let you sprawl around without being indecent. Just be careful when getting on bikes or motorbikes – I always end up getting twisted around the back of the seat. Thank you, hippies, for letting me see the light.
3) Helmets. I have worn so many suspect motorcycle helmets. The top will be so scratched that it looks like the previous owner was tossed headfirst from a cliff. The buckle won't stay buckled. The visor will be hanging off one hinge. Wear your damn helmet. And make sure the buckle works. Remember, don't do drugs and go tubing/cliff jumping/rope swinging.
4) Viscose. Let me champion the cause of manmade fibers. These wholly unnatural fabrics will dry with amazing speed after a day of carting your 20 kilo (see, I've been away from the US too long) backpack and trying to haggle with tuk-tuk drivers by making silly duck faces after their ridiculous first offer. It helps me avoid getting angry, which is the kiss of death for haggling in these parts. So don't get angry. Make weird duck faces, puppy faces, hop around like a rabbit, something. Laugh. Then, "You give me good price?" They will be so confused, they might just slip up. Also, if you just stay silent for a long time, then walk away, that works too.
5) Swimwear. If you pay the exorbitant fee to go walk in the shark tank at Bangkok's aquarium, they give you a bikini for free. Free! For only the cost of a lame shark tank experience that could easily net you 2 real scuba dive sessions in a beautiful island dive site. Not worth it. But good for feeding monkeys in.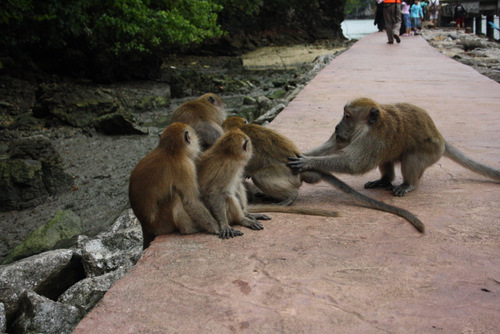 5a) Monkeys. They are not your friends!
5b) Monkeys, part II. Monkeys are like rats, but cuter and with brainpower and opposable things. Think about how terrifying this is. They will snatch your plastic bags and potato chips. If you try to feed the baby monkeys, the big monkeys will yell and take their food. However, they're pretty cute when you throw them pineapple chunks from your kayak and they wash the food first before eating it. Repeat after me: Monkeys  = not your friends.
6) Hair ties. Buy them at 7-Eleven. Or cut a section off your pantyhose.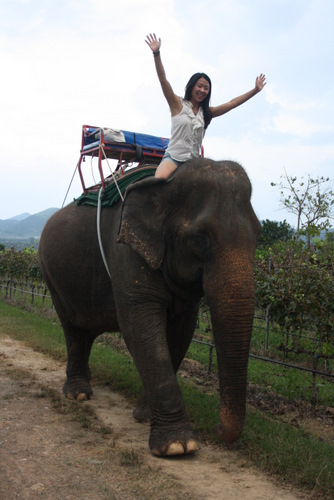 7) Pants. Wear them when you ride elephants bareback. Their hair is really coarse and wiry. Also, you shouldn't ride elephants bareback. At least, I don't think you're supposed to. But no one else was watching and the Thai guy said it was fine. "Will I fall off?" "No no," he says, smiling. Good luck.
8) Daypacks. Motorcycle bag snatches are not uncommon here. Sometimes, the thief will carry a knife to slash your bag strap as they make a 2-wheeled getaway. Always let go, or else you'll get dragged into the street and I will cry. So, like the anxious wreck I am, I carry a small backpack everywhere. I bought it in Ipoh for like, 30 Ringgit. (~$10) Which was too much. I saw a pile at the discount store in Kuala Lumpur for $15 Ringgit. (~$5) I should have bargained harder! My backpack brings all the boys to the yard. Along with my juvenile Asian pencil case that I stick antibiotics, eyedrops, and bandaids in.
9) Skin ailments. Not usually part of my beauty routine. At least to not to this scarring degree. But I like to think my shoulders, once pristine and now populated with white, polka-dot like patches, are the new fashion trend. Backpacker skin FTW!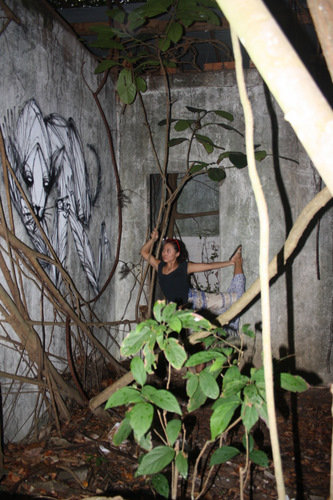 10) Sarongs. I already detailed why I love sarongs in a different post, but my love just never ends. They also make for good ninja disguises and neck rests on long bus rides. Also for posing in Khmer Rouge's legacy of abandoned houses in Kep.
BONUS: 11) Tshirts. Wearing a "SAME SAME" (front) "BUT DIFFERENT" (back) shirt doesn't make you cool.
BONUS #2: 12) Lobsters. They're giant sea bugs. Just think about it.
I hope this list helps you.