I arrive in Kalaw, the same as I arrive in every new city. Dusty. Head pounding. Disoriented.
My guesthouse in Kalaw is styled like a ski lodge. There's wood and woven bamboo paneling, pen sketches of hill tribe people, and a local parasol adorning the walls. Throw in a private bath for 8 bucks, and i am one happy, if still slightly sick, camper. I'm here to do a 2-3 day trek to Inle Lake, passing through the hill tribe villages along the way.
An employee directs me to the viewpoint. I start climbing the hill, spooked by the barking of dogs after a conversation with my bus buddy on the way here about rabies. I clutch stones in my fists, feeling vulnerable.
I reach the top of the dirt road, passing woman carrying bushels of ferns. From the top, Kalaw is a charming slate-and-blue patchwork of corrugated tin rooftops lit by a cold, white sun. I walk into the temple grounds.
There is a golden stupa, guarded by an aggressive dog. He runs out and keeps barking at me. I freeze, clutching the stones and thinking, somewhat obsessively, getting to Bangkok for rabies shots would really suck.
After awhile, I starting inching away. I hear the jingle of the dog's collar following me.
Then I see the monk, sitting in a tiny white house to the right of the stupa. I wave, and he walks out to greet me. The dog turns away, panting and satisfied.
"Mingalaba!" I say.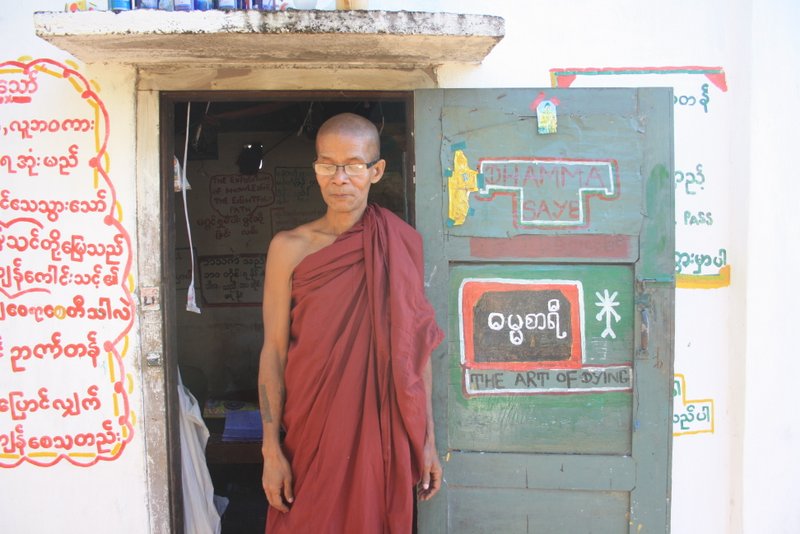 He smiles. He is missing many of his yellowed teeth, and a bit of saliva collects at the corner of his mouth as he talks. He looks frail, swaddled in ochre robes and wearing glasses with the faded price sticker still affixed to the lens.
We exchange the usual pleasantries. His English is hard to understand, so I just end up trying to process his stream of Buddha thoughts. He reads the words painted on his door and walls: "the art of dying" "I am alone but I am not lonely" "Open mind means entirely empty mind" "this too, will pass."
"You just one?" he asks, holding up a forlorn finger.
"Dae yao," I say, which is Myanmar for alone. Coincidentally, it sounds similar to the word for China – "Dai yao."
He laughs with delight. It is always worth learning a few words of the local language to experience this. "You strong!"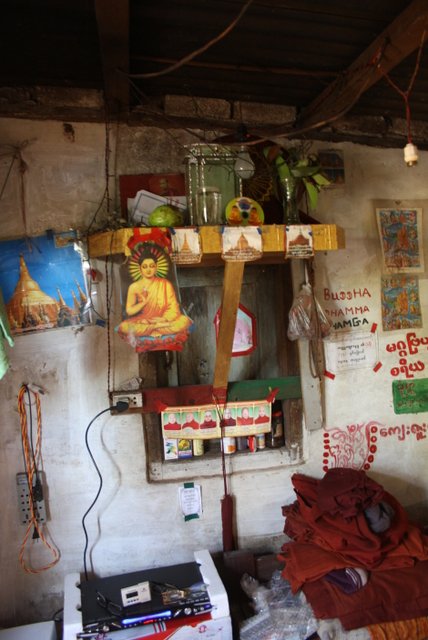 I flex my biceps. Based on my Lonely Planet, I was expecting pity. I always read their "woman travellers" section with particular care. I've realized that this section is often written by men. It amazes me how much of my expectations of travel have been based on white, male accounts. The China I experience – the Thailand I experience – the Myanmar I experience – never feel the same.
I am less bothered – especially now, in (what feels like) the absurdly safe holds of Myanmar – about how my travel experience differs from a man's.
Sometimes, I try to explain to my male travel partners What It's Like To Be A Woman. I say things like, "Sometimes you wonder if he's being creepy or if it's a cultural difference. The fact you're wondering means he's being creepy. Full stop." I try to explain what it means to always be aware of being female. Why catcalling isn't just flattering background noise. I'm not sure if they understand, but it's helpful to clarify for myself.
The monk offers me coffee.
Why not? He pours hot water from a carafe into a dirty plastic cup and pours in a 3-in-1 coffee mix. I pray fervently that this doesn't upset my recovering stomach. I drink some coffee, take pictures of his abode, and we say goodbye.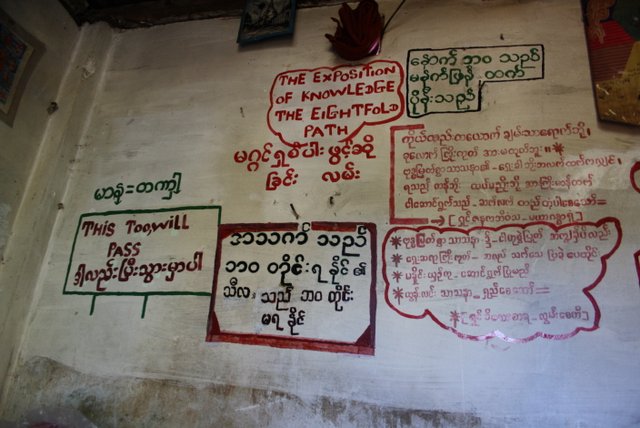 I wonder if he is lonely. He had told me I was beautiful, several times. Then I remember that English phrase, painted on the wall at the foot of his bed: I am alone but I am not lonely.