Time for some Question and Answer action!
Hey Lingbo,
I hope you're doing grand (and I'm a bit sad that my google reader hasn't updated anything from your blog in awhile!) and that you find yourself in Brazil on your South America trip.
I'm writing because I want your input and advice. I'm quitting my job at the end of May, subletting my place, and basically just kicking it til med school starts in August. I have between 6-8 weeks of uninterrupted time to travel, by myself, something I've been wanting to do for a long time, to Southeast Asia and see glorious beaches in Thailand, or the coves of Halong Bay, or try hokkien mee on the street, and just see a different part of the world. 
Seeing as you've went, and this would be one of my first solo experiences for fun (and where i don't speak local languages other than some French), do you have any advice? Recommendations? Even proposed itineraries? Anything would be helpful.
Much obliged,
Traveling Penguin
Dear Traveling Penguin,
First of all, congratulations on med school and deciding to do some solo travel! Solo travel is awesome, and you are in for a treat.
With 6-8 weeks, you have a decent chunk of time, but not not enough to traverse the continent without running yourself ragged. I would recommend picking 2-4 countries. 2, for a more immersive experience, and 4, if you're going to do more of a "greatest hits" tour.
Southeast Asia is extraordinarily easy to get around, overland travel can be booked on the fly and is dirt cheap, and your plans will inevitably change (embrace this change!). Logistics that seem daunting when you're stateside are effortless once you're there. So most of all, don't worry, just trust you'll figure it out as you go along.
Most importantly, figure out a start and an end point. Stare at a map really, really hard, pick out some "must visits," then figure out a general order (are you going from north to south, or south to north), and figure out where to go in between once you're there.
Most people start in either Bangkok or Singapore, since international flights will be cheapest there. If you start in Bangkok, you could decide to head north to Chiang Mai, or cross into Cambodia's Siem Reap by train and see the temples of Angkor Wat, diddle around for awhile, then cross by bus/ferry into southern Vietnam. Or maybe you'll hit up northern Laos first, then take bus or flight over to northern Vietnam (make sure you get a visa in Bangkok first).
Make sure to get visas for Vietnam and Myanmar in Bangkok, if you plan on visiting those countries. I highly recommend Myanmar, despite the logistical challenges. I had an incredible time there – some magical experiences and the nicest locals ever. As a side note, food is not the greatest there.
In the other direction, you could fly down to Indonesia from Bangkok and work your way back up north to Bangkok via Singapore (most recommend 3-4 days there), Malaysia, and the Thailand islands.
Whatever you do, make sure you check weather patterns for your time there – it may be monsoon season in many places.
My Picks
Bangkok is a nice place to start. You'll probably end up staying on Khao San Road, which is the backpacker mecca of the world. It's a bit sleazy and grimy, but that is ok for now. Plenty of traveler amenities here and a chance to get your bearings.
Thailand tourist rundown
If you're looking to hop around Thailand, here is the quickest rundown of some (rather touristy) spots. I think it's not a bad idea to start your trip off with some touristy places, just to get a handle on traveling.
Pattaya (not an island): mostly for sex tourists. Avoid if you're not a sex tourist.
Phuket: one of the most developed islands – mostly big resorts and a lot of sex tourists.
On the east side:
Koh Samui: Another large, well-developed island.
Koh Phangan: Home to the infamous Full Moon Party. Worth a look if you find a group you like to party with (meet up with some people at a  Samui hostel), but I wouldn't go alone, particularly as a female. It's a bit douchey, but fun if you like huge beach parties.
Koh Tao: Cheapest place to get scuba certified.
On the west side:
You'll probably take a bus to Krabi Town or Ao Nang, then take a longboat to the islands from there.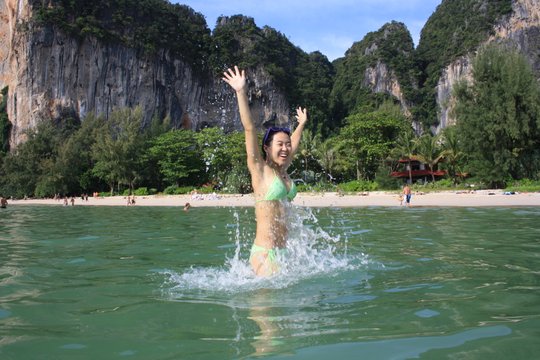 Rai Lay Beach: Must see! Laid back, incredibly beautiful, blue waters and soaring limestone cliffs, mixed crowd. Stay on Tonsai for the backpackery/climber crowd.
Koh Phi Phi: For 20-somethings that love to party. Stay away if you don't like these kinds of tourists. If you go here, make sure to hike to the viewpoint.
Koh Lanta: Super chilled out, one of my personal favorites. Good for relaxing, good food, good place to rent a motorbike and explore.
Koh Lipe: Most beautiful water/beach I've seen so far, but pretty dull otherwise. Mostly for families/couples.
There's a lot of other places in Thailand other than islands/beaches! Consult your Lonely Planet for advice. If you're looking to get away from tourists, head away from the water.
Elsewhere
I will refrain from writing rundowns of everywhere, but here are a few of my fondest memories:
Penang, Malaysia: Fantastic street food.
Kampot, Cambodia: A golden, sleepy town in southern Cambodia surrounded by picturesque countryside (great for motorbiking), soaring mountains, and one of my favorite islands. Nearby Kep is full of abandoned colonial houses and great fresh seafood. Take a boat out to Rabbit Island for an overnight trip, you won't regret it. A great place to chill out for a week or two in between hardcore travel.
Monywa, Myanmar: Off the beaten track. One of my favorite days of my trip: met an incredible motortaxi driver named Saw on the street, great street food, friendly people.
One of the most beautiful, picturesque places of my entire trip. Mountain ranges surrounding waterways and fishing villages. Make sure you bike out to the jetty and eat at a little restaurant which has stunning panoramic views for all of a dollar. Be sure to stay at Aquarius Inn: http://www.tripadvisor.com/Hotel_Review-g303662-d1536830-Reviews-Aquarius_Inn-Nyaungshwe.html
Malacca, Malaysia: Another great place to chill out in between big destinations. Great food, and I loved the guesthouse I stayed at: http://www.hostelbookers.com/hostels/malaysia/malacca/48178/
But honestly, I had amazing times in not-so-choice destinations just because of the people I met. (Phnom Penh is totally skippable, but I had a great week there, anyway. Hi Simone!) It's not so much about where you go, but what you make out of it.
Make sure to use Couchsurfing.com both to experience local hospitality and for meetups if you're in an area that organizes them. I met some fantastic friends and travel partners this way.
Places I would go in the future:
– Heard amazing things about East Timor. I'd love to get more "off-the-beaten-track." (You will hear this phrase a lot.)
– Indonesia, somewhere.
– Palawan, Philippines and Boracay. Stunning island scenery and cheap beer.
– Laos.
$$$
You can do very reasonably on about $30/day in most places. Since you're going during low season, you'll probably be ok just showing up, but it's always useful knowing where you're going once you arrive somewhere. You can make hostel/guesthouse bookings online at places like HostelBookers.com and Agoda.com (which has a $2 booking fee). Never forget you can bargain for you room, and indeed, ANYTHING, especially if you're staying more than 1 night.
You can also get free food/stays in return for working at a hostel – just inquire.
Get comfortable with bargaining!
Transport
… is pretty easy, but remember that AirAsia is great for cheap airfare. HOWEVER, you may have issues with your US credit card (I did), so be sure to buy well in advance, and possibly have someone back home buy your ticket for you if you're having issues.
Health
Bring diarrhea meeds and rehydrating salts. You will probably have digestive issues. It's ok, happens to everyone.
Make sure to treat every single cut/scratch/whatever with extreme seriousness. I never bother bandaging or disinfecting minor cuts in the US, but everything gets infected in the tropics. So be super diligent!
Drink bottled water, wear a helmet, buy travel insurance, use protection, bring a universal travel adaptor, etc.
Packing
Bring as little as possible. As. Little. As. Possible.
The Most Important Thing
My biggest piece of advice is: accept every single moment. I had a lot of times when I was pissed off at where I was, who I was with, etc. instead of just accepting it and enjoying it. Every person and experience brings something valuable to your travels. As long as you keep a positive attitude and an open mind, you'll have a great time no matter where you go.
Also, don't be afraid to chill out. Everyone has a different physical tolerance, so if you're tired, rest. Take care of your body. I'd take "a week off" every 3 weeks and just do some work.
And learn more than "hello" and "thank you" everywhere you go. I loved the instant gratification of learning languages while you're abroad – and the smiles you receive in return are incredible.
Bon voyage! You're going to experience the beautiful, the ridiculous, the sublime. It's going to be great.