Hákarl is fermented shark meat that's served in small cubes. It sounded absolutely disgusting, so I knew I had to try it.
I found a seafood place that was supposed to serve this local specialty. It was featured in an appetizer along with pickled herring. Neither sounded appetizing, but I went ahead and ordered anyway.
It looked innocent enough – pale, pink, a bit of a rubbery texture, but put it in your mouth and the taste is pure ammonia – like chewing gum made of industrial cleaning fluids. You're supposed to chase it with Schnapps. I was given a shot of the local speciality, Brennivín, nicknamed "Black Death."
Also on my plate was pickled herring 3 ways, with no way managing to overcome its offensive heritage.
I ate a lot of the bread that night. The smjör (butter) was good. I enviously glared at my friend's meal of cod and langoustine (lobster) in a cream sauce.
So far, Iceland: 1. Lingbo: 0.
I wasn't about to give up yet. Next on my hit list was a cuddly, peaceful mammal.
"Where can I get good whale?" I asked one local.
"Þrir Frakkar," he replied immediately. The name means Three Frenchmen.
He went into the tricky particulars of preparing whale."The thing about whale is that you have to cook it right. You can only cook it for 40 seconds on each side or else it tastes like cod liver oil. They have puffin, too."
Sold! I asked the hotel owner where it was, and he drew it up on a map – just a short walk away, but then again, everything was a short walk away from our very centrally located hotel room.
When 7pm rolled around, Marco and I were seated with menus listing delicacies like smoked puffin and hashed fish on Icelandic black bread. He got salted cod on a bed of apples and raisins.
First was a smoked puffin appetizer. It came in maroon strips with blobs of yellow mustard, whose tangy sweetness provided a nice counterpart to the gamey, smokey taste of puffin. It was particularly delicious atop bread with a dollop of mustard.
Then the main event. Mine was served with with a pepper cream sauce. I gingerly lifted a steak with my fork and noted the purplish blood that was mingling with the sauce.
I bit into my first piece, expecting the exotic, and ended up with a mouthful of familiar. If you like steak, you'll love whale. It's darker, denser, and more intense than its bovine counterpart, but otherwise similar in flavor. However, it wasn't entirely beef. There was a faint undercurrent of fishiness and that made you aware that you were still eating a very, very rare slab of a marine animal.
Food presentation was suspect, plated with an afterthought of pale potato spheres. One small spot in the steak was overdone. The local was right: a mouthful of cod liver oil.
The thing is, I don't really like steak, even the normal kind that comes from cows. I struggled to finish one of my two steaks, and again looked lustfully after Marco's meal. I had the waitress pack up the leftover whale steak.
We did crappy Thai food the next night.
I finished my food.
Tired of meal failures and semi-failures, I decided on Saegreifinn (The Sea Baron) for our last dinner. They were known for their cheap, tasty lobster soup, something which I figured would be as comforting and familiar as Kraft Easy Mac after rotten shark and rare whale.
We walked in and saw an few shelves of raw kebobs. Cod kebobs, whale kebobs, salmon kebobs, potato kebobs. Other than the potato, the whale was the cheapest option.
I spotted no menu, so I asked the cashier for one. She pointed to the platters of kebobs. That was the menu.
Our food came in styrofoam cups and trays, and there was no ambient noise other than the erratic rumbling of the refrigerator. We sat on nautically-themed stools at long tables too close together. The decor was somewhere between nautical and a disaster. And the lobster soup was delicious.
It wasn't like a thick, creamy New England style lobster bisque. It was thinner, fragrant, and my spoon fished out tender chunks of langoustine. We dunked in buttered slices of bread and soaked up every last, savory drop. I also found a lone, confetti-sized square of red pepper and a few straggly bits of celery. Some talkative Hong Kong tourists and French tourists came in, and Marco was aghast that both our secret languages were rendered unsecret.
By the time I got my cod, I was already full. It was fresh and perfectly cooked, but bland, and I struggled to find the perfect condiments for it. "What's that?" one of the Hong Kong tourists asked, pointing to the sweet mustard. "What about that?" he asked again, pointing to the very dilute, Icelandic brand soy sauce in a squeeze bottle. And then, "Where are you from?"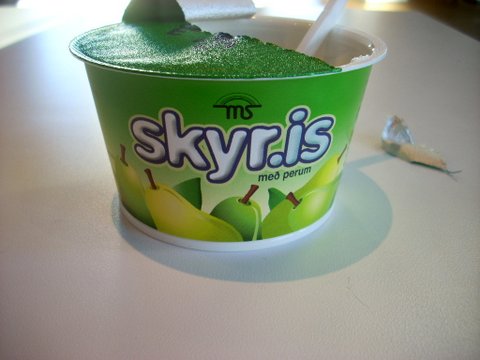 Nearing the end of my trip, I took a dip in the geothermal, silica-filled waters of the Blue Lagoon. Afterwards, I felt a bit peckish. The cafe offered skyr, the equivalent of yogurt here. It was super thick and creamy, with a smoother texture than yogurt, despite the fact it had a very low fat content. I wished they offered it in the US.
But by far, one of our favorite meals on the trip was so good that we ate it with great gusto – three days in a row. It was the fabled Icelandic hot dog from Baejarins Beztu with all the condiments, including incredible fried onion bits and a sweet mustard.
"Why does this taste so good?" I cried in pylsur-related joy after taking a bite.
"It's because it's a combination of meats," said the local who had treated us. "Lamb, cow, pig, and uh, some horse."
On the last morning, I retrieved the whale from the fridge for a quick breakfast. It turned out that the restaurant had repackaged the steak with more potatoes and a side of pepper cream sauce. How thoughtful!
After a quick go in the microwave, it tasted as good as new.