Having reported on cupcakes in Cambridge, I decided it was time to visit the mother of cupcakes, the mythical home of tender crumb and corrugated wrapper, where this entire craze over portable sweets began: Magnolia's Bakery in NYC.
I arrived in the city with literally no idea of what I was going to do that day. I went into a Hallmark shop and bought a map, before suddenly remembering that I was in the city that birthed Magnolia's. I asked the cashier, who referred to a Zagat guide, pointing me to the west side of Central Park.
So I wandered through Central Park for an hour, trying to make my way from the east to the west. Along the way, I discovered the incredibly beautiful and seren Bethesda Terrace, where a musician happened to be playing harpsichord. (Or maybe some other instrument, I'm not sure.)
After a good deal of window shopping and more wandering, I eventually found Magnolia's. Painted in pale pinks and blues and cream, it gave off a old-world charm matched by the smiling, cheerful employees. It was such a nice change from the sullen, cranky service I got at Kickass Cupcakes, where the cashier literally rolled his eyes at me.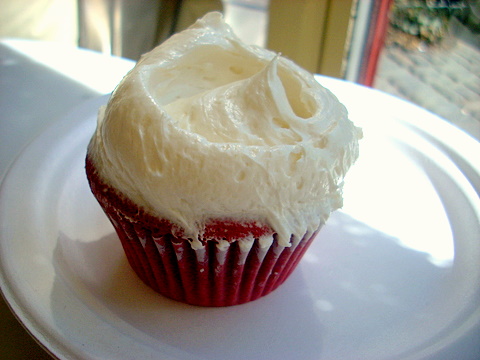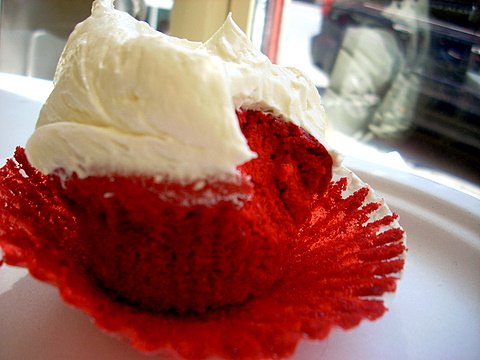 I decided to for a red velvet cupcake, followed with a chocolate chip cookie. Two classics, but unlike their awesome service, I wasn't too impressed by the goods. I like my cupcakes moist, and their red velvet rendition was very dry and didn't transcend supermarket versions. The frosting wasn't a knockout either, and failed to redeem the dry cake.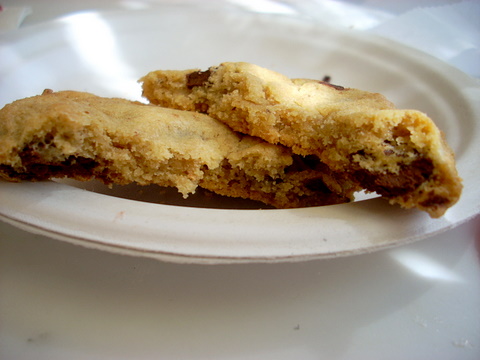 The chocolate chip cookie, similarly, was nothing too special. Just your run of the mill cookie. I struggled to find a distinguishing quality, good or bad, and failed. So… Sex and the City has overhyped this place a bit much. But the inside smells really, really good, like angel kisses and gurgling babies and sunshine. And this cute old grandma chatted with me.
If only their cupcakes were good.