I have been declared cattle contestant 247 in the Miss New York USA 2010 pageant.
In all honesty, day 1 has been fun in the most wholesome of ways: all the girls (including myself) help each other behind the scenes. We cheer each other on. We compliment each other's swimsuits. We paint on obscene amounts of bronzer. We all have stretch marks, cellulite, big butts, flat hair, and ungainly heels  – and this makes everything ok. For some reason, I was expecting a room of Barbies, and there are a few Barbie-beautiful girls (who will win this pageant), but the majority of us are just you know, normal girls.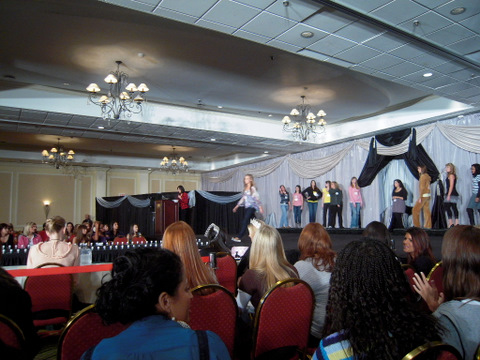 There are definitely varying levels of pageantry experience – a former Miss New York Teen USA is competing for the Miss title, while another girl didn't bother to go tanning or buy a trendy swimsuit or make her hair enormous. I am satisfied that I'm somewhat prepared for this whole shebang.
My beautiful roommate was last year's 2rd runner up. We collapsed and munched on popcorn and pretzels after the swimsuit preliminary competition and watched The Sweetest Thing on TV.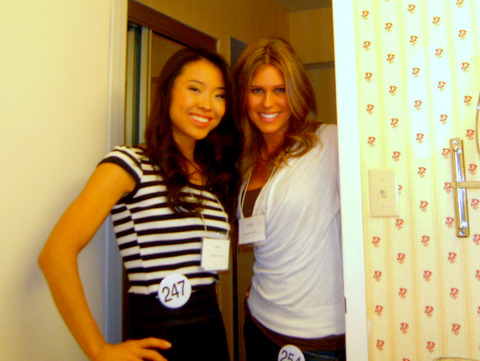 This is all so happy and wholesome it is slightly ridiculous. If only Harvard were like, a giant slumber party with girls in bikinis and stripper heels. You know?
The schedule for tomorrow: interview (supposed to be really relaxed) around 10, lunch, evening gown rehearsal, then evening gown preliminary at 9pm. The actual pageant, and the announcement of the top 25, will be on Sunday.
Wish me luck guys! Here are some pics:
This is the only time in my life it seems totally appropriate to put up a photo of myself in a swimsuit… rest assured this never happens otherwise.