I heard O Ya, Boston's premiere sushi restaurant, was absolutely superb. I'd heard raves. It was supposed to be an exotic, transcendental experience. It was supposed to push the boundaries of what sushi is. "Get the hamachi with banana pepper mousse," one friend told me. Another moaned when recalling the fried oyster with squid ink foam, with a similarly moan inducing price tag.
It's life changing, I'll-never-eat-sushi-again kind of sushi. Each grain of rice is perfect, instilled with a richness and nuance of flavor I didn't know rice could hold. Each nigiri is as precisely constructed as a Swiss timepiece and balanced in flavors, and oh, the flavors, the flavors! – ingredients I'd never seen used in sushi before, with a fondness for black truffle, aioli, and smoky pickled onion. With each bite (and they only give you one bite at a time), fireworks went off, every single time, I cried, "This is the best thing I've ever eaten."
I had never really thought about how fish and rice go so well together, but this was the first time I was dumbstruck by this basic fact. Sushi and rice formed a holy communion – they melted together, melded together, moved together. The fish was so fresh it seemed not like fish at all, but a kind of ecclesciastical butter, something that could lubricate the movement of heavens, or convince atheists in the existence of God. The only problem with each artfully made bite was how how tragically quickly it melted away into the paleness of a memory.
The climb to the top included a nigiri made with house smoked wagyu beef – but not just any beef. This beef melted in my mouth like it was freshly caught fish, and astounded me with its smoky richness. I was afraid to swallow. I got lost. I closed my eyes. I shaded my eyes with a open palm, as if the sun was shining in my eyes, unsure what was happening or what I was tasting. I didn't think anything could top it until I hit even the very last bite – foie gras with balsamic chocolate kabayaki, raisin cocoa pulp, and a sip of aged sake. It was perched on top of a roll of rice, and as the crowning achievement of a spectacular meal, it caused me to cover my face with my hands and moan, head bowed, at a loss for words. My shoulders slumped in defeat. I don't even normally like foie gras that much. I don't normally get bowled over by sushi. I don't normally write such fawning reviews. Amazing.
I walked around post-dinner in Chinatown and couldn't really bring myself to buy a snack anywhere else. No joke, all other kinds of food seemed distant and unpalatable.
O Ya, opened by chef Tim Cushman and his sake sommelier wife Nancy, is hidden on a bare, deserted street in the Leather District (rubbing shoulders with Chinatown). I got off South Station and no one had heard of "East Street." I wandered, legs bare and freezing, until a taxi cab driver finally pointed me in the right direction. I spotted the modest sign and plain wooden door, not sure what to expect from such an unassuming location.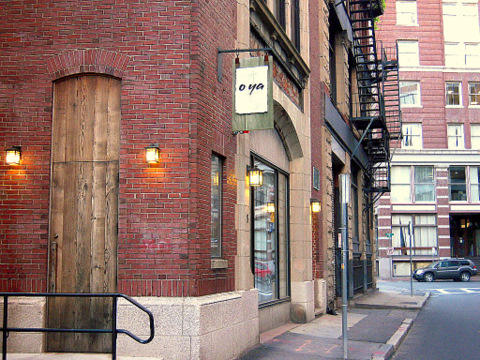 I took a seat, and immediately wished I'd skipped the VIP tables and reserved a bar stool instead where I could watch the food being made. Unfortunately, they were booked for the evening. My own 5:30pm Saturday reservation had been made weeks in advance – if I'd insisted on getting a 7pm, it would have a month and a half to snag a prime dining time. Our waitress was competent and professional, if not extremely warm.
By now, I've developed a shameless routine when I eat out. I get my Nikon camera out, set up the tripod, set the white balance, and snap a few test shots to figure out the light. The women sitting to our right kept glancing over, amused: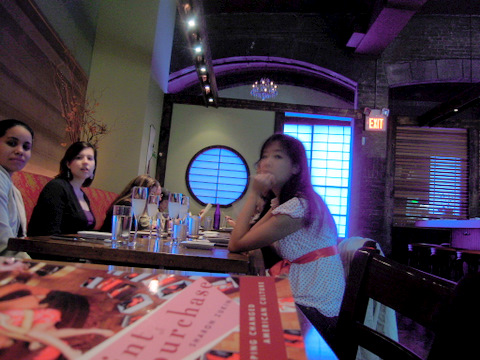 The first dish of the evening was a kumamoto oyster, tiny pearls of watermelon, and cucumber mignonette, slightly sweet and briney.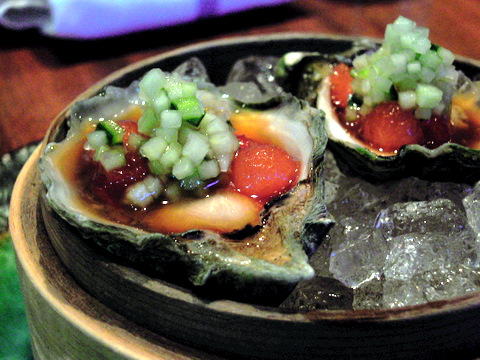 Next came a hint of the delight of what would come: hamachi with banana pepper mousse. Cushman is fond of torching.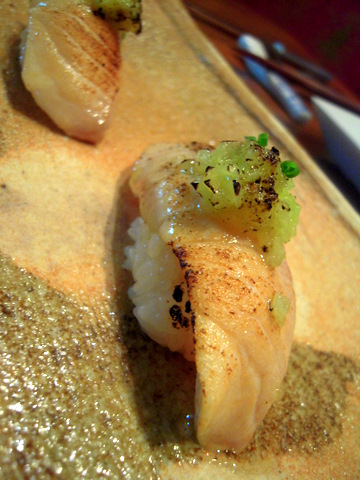 Then salmon tataki with torched tomato, smoked salt, and onion aioli. Another stunner of a bite – the smoked salt and onion flavors made it a knockout.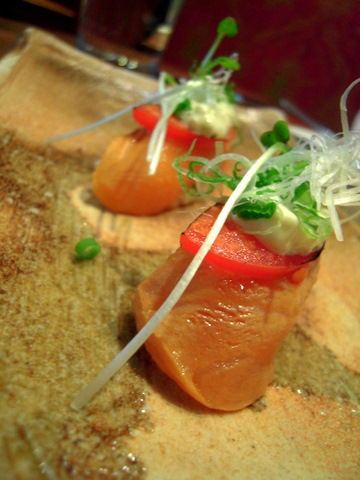 One of my favorite things in the world is unagi, and this warm eel unagi with thai basil, kabayaki, and fresh Kyoto sansho is no exception. The melding of Thai and Japanese flavors added an unexpected twist on an already unbelievably rich bite.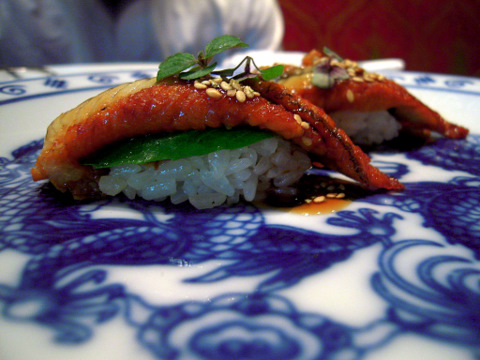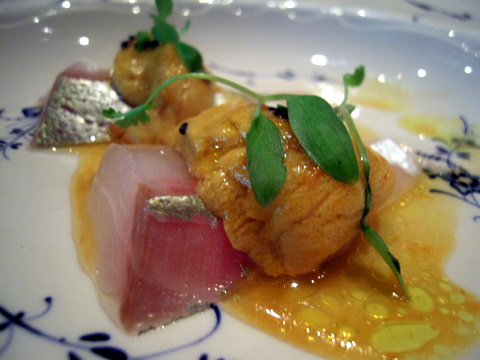 An example of of how incredibly inventful the food can be: warm chive blossom omelette, sweet dashi sauce, hajiso.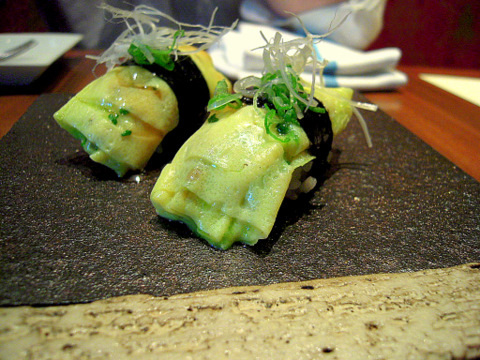 One of my favorites included this fried kumamoto oyster, yuzu kosho aioli, and squid ink bubbles – actually made with a froth of oyster juice, squid ink, olive oil and milk.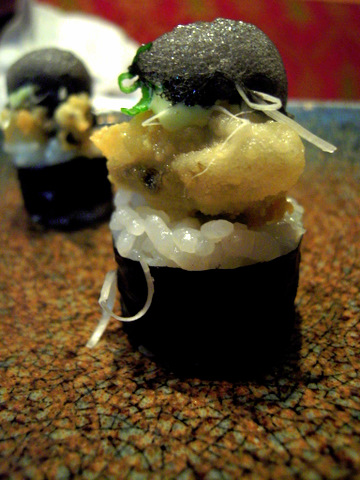 A la ratte potato chip with summer truffle.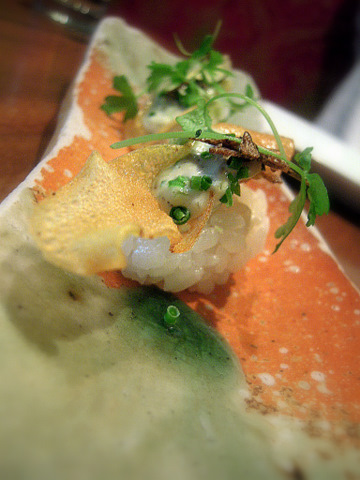 Hamachi with Vietnamese mignonette, thai basil, and fried shallots – incredibly fresh, love the melding of Japanese and Vietnamese flavors here.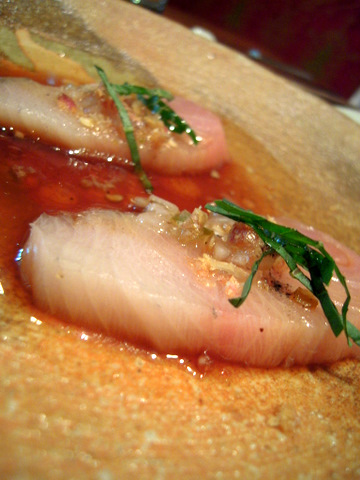 Wild bluefin tataki, smoky  pickled onion, truffle oil. Off the hook.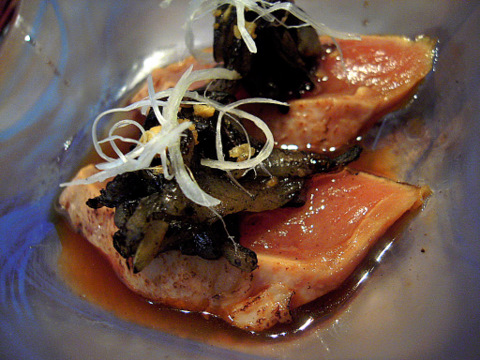 An amazing vegetarian dish of grilled sashimi of chanterelle and shittake mushrooms, rosemary garlic oil, sesame froth, and homemade soy. Each delicate bite made me rethink the taste of mushrooms.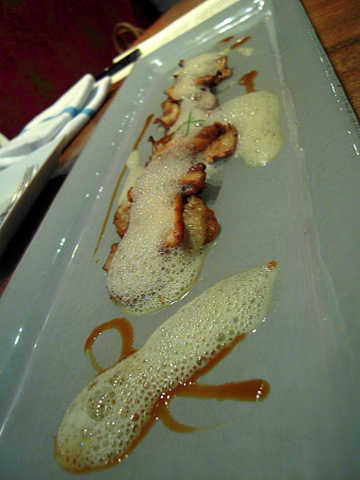 Wagyu beef nigiri that… almost made me pass out from joy. Amazing.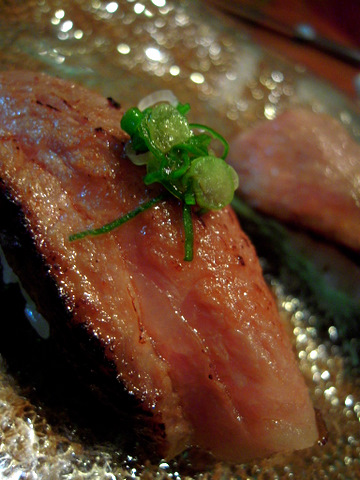 The finale – a seared bite of foie gras, flavored with balsamic vinegar, chocolate, and raisins. You would never think that combination would work, but the names of the ingredients are really good predictions of success at O Ya.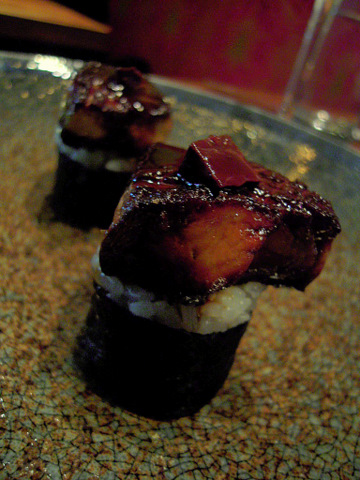 I'm happy to say that O Ya lived up to the hype in every way. Best sushi of my life.